A strong company culture is vital to delivering good work, and to living good work-lives.
Empower has many retained and frequent returning clients, and a friendly, open, long-term team, which we believe is in large part due to our strong and personal culture.
We've spent a lot of time on our culture, both consciously and instinctively, and with every evolution it changes. We very much believe its a conversation:
Here are some of the ways it lives now:
Embedding our values
We've created our business to support a diverse range of people, from our team of multi-disciplined, multi-regional employees and consultants to the in-house teams and organisations we work with.
In 2022 we were proud to see this recognised, as we:
Our commitment to mission-aligned work means we only work with people who share our values:
People-Centred – We are kind, generous, inclusive and human.
Driven – We are ambitious, professional and take initiative.
Ethical – We are trustworthy, transparent and fair.
And we measure this through our North Star, scoring – 9 out of 10 client and team satisfaction – is how we know whether we're living our values and delivering the kind of work, and workplace we envision.
People and planet over profit: Setting a North Star for a purpose-led digital comms agency
Empowering good working lives
Remote and flexible since 2016. Empower have always been a remote business, supported by video calls, Slack, a monthly co-working day and two annual purpose-linked team social days, for example cooking up a storm or foraging, and lots of ad hoc connection time. We set core work hours but otherwise are happy for people to work when, and from wherever they wish.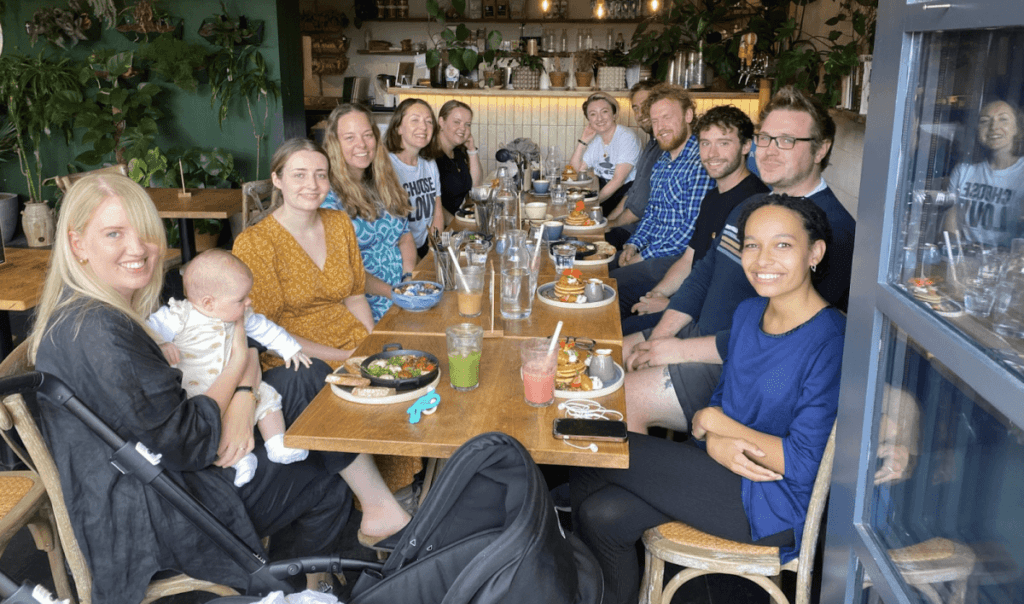 75% of us work a 4 day week or less – which is a powerful choice to enable us all to balance our lives – study, hobbies, pets, family etc. We are truly asynchronous and flexi, and it works because we're organised, and support one another to flex in the way that works best for each individual
A progressive employee package that includes a generous pension contribution, 36 days holiday (including Christmas closure and bank holidays), YouCanNow training partnership, 12 weeks leave for all new parents on 90% of normal pay, progressive women's health support and more

In 2022 we provided employees with a 7% cost-of-living linked pay rise, and we expect to do the same in 2023
Mental health support through Spill therapy sessions, a personal wellness budget, local coworking, calls kicking off with a how are you, and space for simple changes when needed like keeping camera off for calls
See the difference remote working at Empower has made to Lorna – Mental health and remote work: How working remotely helped me climb mental health mountains
Feeling safe – To ensure everyone feels safe to share, we provide multiple ways for the team to provide feedback: directly in-person, via 121's with line managers, within groups, via our external values-aligned HR lead, or anonymously through quarterly surveys or an always-on feedback form.
Diversity & Inclusion – Our remote-first work and gentle culture has always welcomed a diverse team, and we are pleased when we hear that people find Empower to be a safe space for them. But in 2021 we invested more formally in DE&I, when we moved to offer employment, rather than just consultant-contracts: consultancy is not a work-model that many people find accessible, so creating a strong employee offering was vital to a diverse future for Empower. Since then we've developed a fledgling internal DE&I team, who hold monthly meetings as a safe space (no founders are present) and develop actions for the business. We've adapted and improved our recruitment process, surveyed our team, invested in DE&I HR, and in 2023 we will develop our first DE&I strategy and welcome Empower's first ever intern – via 10,000 Black Interns. There's so much more we can do here, but we're excited to continue to evolve what a small business can achieve.
Empowering green choices
As well as working for many green clients, Empower always seek green choices:
50% of the team live outside of London, and are not commuting, helping stop the reliance on living in and traveling to the city.
No / low-carbon travel– public transport in the UK and the train to Europe or offset flights if further afield. We also lean towards video calls, and avoid flights wherever possible.
Plant-based – with a 40% veggie or vegan team, and climate at our heart, our catering is always plant-based heavy, and fully vegetarian
Eco website hosting – a simple choice for our website, email and digital storage.
Paperless – We have been paperless since day one, and as home-workers, rarely use any office supplies.
Consume less – We generally commit to the principle of consuming less being one of the best ways to protect the planet. So no gimmicky gifts, or unnecessary items get bought or used. When we want to give a gift, we pay for experiences, or social enterprise treats like those from Luminary Bakery
SME Climate Hub – we are signatories of this global initiative that empowers small to medium sized companies to take climate action and build resilient businesses for the future.
Refurbished equipment – the team's tech from laptops to desk chairs is refurbished rather than new.
Empowering generosity
There are several ways in which generosity permeates what we do:
Clients – Empower are generous with our time, and open with our knowledge. We do not withhold insight, contacts or information from our clients. By sharing our work and workings, we achieve a trust and transparency that cements client relationships, and delivers many retainers and returning clients.
Team and suppliers – Empower are generous with everyone we work with, which includes everything from, paying promptly, supporting four-day weeks, buying lunches and co-working space, paying for additional travel, and being flexible to accommodate people's real, busy lives
Recruitment – we've worked hard at our recruitment process to remove bias, ensure fairness and lower stress. This includes concrete policies like blind application shortlisting, sending interview questions in advance to lower anxiety and paying interviewees for their time
Team – Within the workplace, Empower work kindly and generously together, being a second pair of eyes on documents and videos, stepping in on busy accounts, and being quick to respond to Slack call outs for a quick favour. We share a lot of praise with one another, including a monthly 'Happy Hour' mail of thanks and successes, see a few examples here: How we measure our values as a people-first business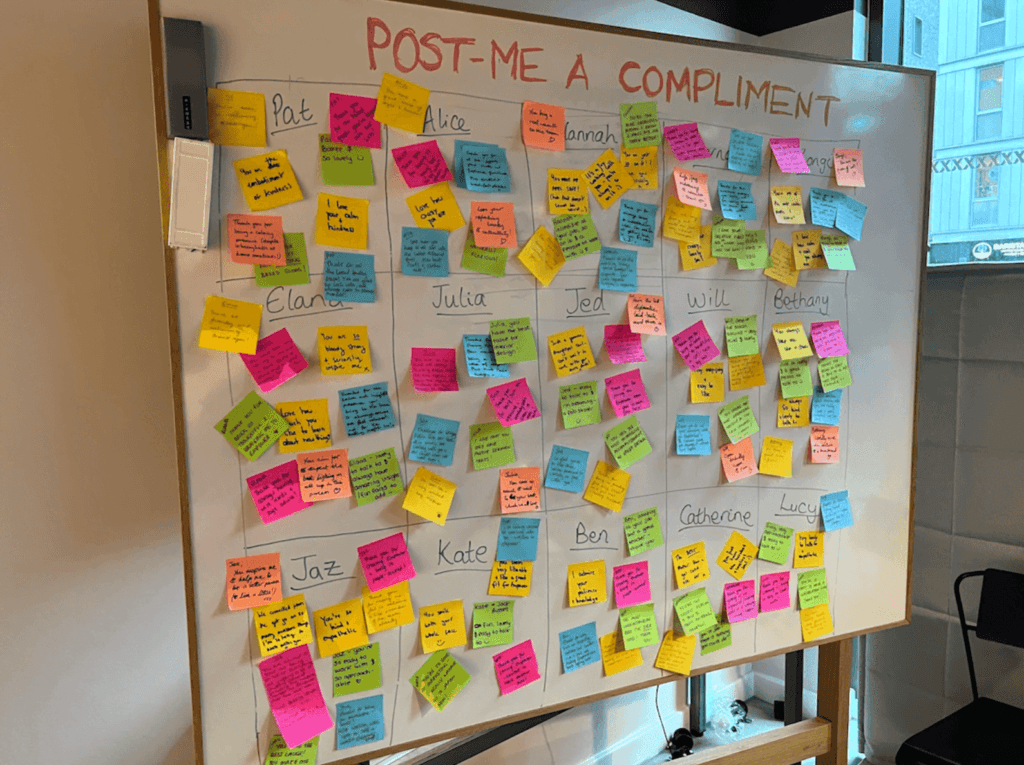 There's still so much to improve, but we're proud of what we've built so far. An organisation is a conversation and with every interaction Empower evolves onwards. We love the changes we're making, and the learning along the way – missteps and detours along the way are part of our unique culture too.
Like the sound of Empower's company culture?
Here's what to do next: