We are so proud to celebrate the end of Empower's first year as a Certified B Corp and publish our 2023 Impact Report.
Our report showcases the progress we've made since becoming B Corp certified in July 2022, evaluates the improvements we've already made, as well as how we can continue to create a positive influence on both society and the environment.
As a certified B Corp, we'll next complete a full B Impact Assessment in 2025, but each year between now and then we'll file an annual Impact Report.
Completing our Impact Report for the first time this year was a valuable opportunity to track what we've done and keep improving the impact of our performance on the environment, for our team and our clients.
Read now: Empower Agency's 2023 Impact Report
A message from our co-founders
At Empower, we believe that living our values and empowering our team are integral to our success. 
As a strategic digital comms agency, we're committed to creating positive change in the world. That starts with the way we work as a team, continues through the way we work with our clients, and results in real, tangible progress for good causes.
In this impact report, we highlight the progress we've made in the areas of Diversity, Equity & Inclusion (DEI), Mental Health, and Sustainability – the three pillars that guide our work at Empower.
We believe Diversity, Equity & Inclusion are fundamental to creating a healthy, productive workplace culture, and we're proud of the strides we've made in this area. We're committed to building a team that is diverse, equitable and inclusive, and an environment that fosters the growth and development of all our team members.
At Empower, we understand the importance of Mental Health and wellbeing, and we've taken steps to prioritise them in our team. We offer mental health resources and support to our team members, and we're dedicated to promoting a culture of self-care and work-life balance.
Sustainability is a core value at Empower, and we're conscious of our environmental impact. We've implemented initiatives to reduce our carbon footprint and to promote sustainable practices, and we're always working to find new ways to make a positive impact on the planet.
There's still so much to improve, but we're proud of what we've built so far. An organisation is a conversation, and with every interaction, Empower evolves onwards.
We love the changes we're making, and the learning along the way – missteps and detours are part of our unique culture too. We're constantly exploring ways to align our business practices more closely with our values.
We hope this report gives you an insight into our commitment to creating positive change. We're proud to share the progress we've made, and we look forward to continuing our work with you, and with even more good causes, in the years to come.
– Jaz Cummins and Ben Matthews, Co-Founders
Read now: Empower Agency's 2023 Impact Report
A snapshot of Empower's impact 2022-3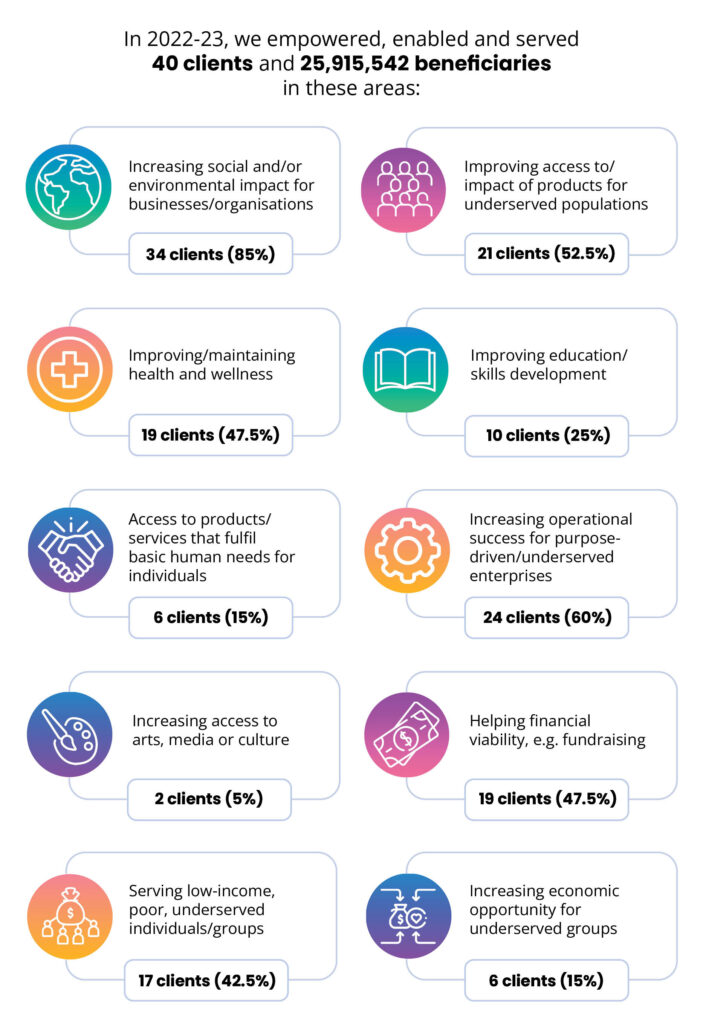 In 2022/23 we're proud that we:
Empower's Impact goals for 2023-24
Over the next year, we'll continue to hold ourselves rigorously to live our company values and empower our clients, and within our team, our three pillar focuses remain the same: Diversity, Equality and Inclusion (DEI), Sustainability and Mental Health.
We have also set out goals to ensure we continue to live our company values and empower our clients.
We've got a lot in our sights for 2023/4 but here are some highlights:
Lead an ethical, values-driven approach to AI, keeping our teams and clients ahead of the curve.
Revise our salary banding, against which we assess performance and pay rises, to make it more reflective of our values.
Invest further in progressive line management that supports our team.Work towards becoming a Disability Confident Employer.
Create a DEI agreement for our clients.
Create a Mental Health strategy for Empower.
Integrate Carbon Accounting into our financial processes.
Assess the merits of sustainability certification and work towards certification if appropriate.
Give employees further cost-of-living financial support, following 2022's 7% salary increase.
Our journey to B Corp certification
The B Impact Assessment is a serious undertaking, but managing time and resources is a challenge for any business, regardless of size. One of the good things about B Corp certification is that it's not actually something that's easy to get. It's a rigorous process and, like so many worthwhile things, it's both difficult and rewarding.
When we reviewed what it took to become B Corp certified, we loved how the assessment process aligned with Empower's values and the way we work already. But it also brought in a new level of accountability and a tangible way to measure our impact.
"Becoming a B Corp means we're joining a global community of over 5,000 businesses and leaders worldwide, with a shared belief that business can be a benefit for the world and for the people who live in it. For Empower, becoming a B Corp is a real marker of our mission to create a positive and meaningful impact in the world."

Ben Matthews, Co-Founder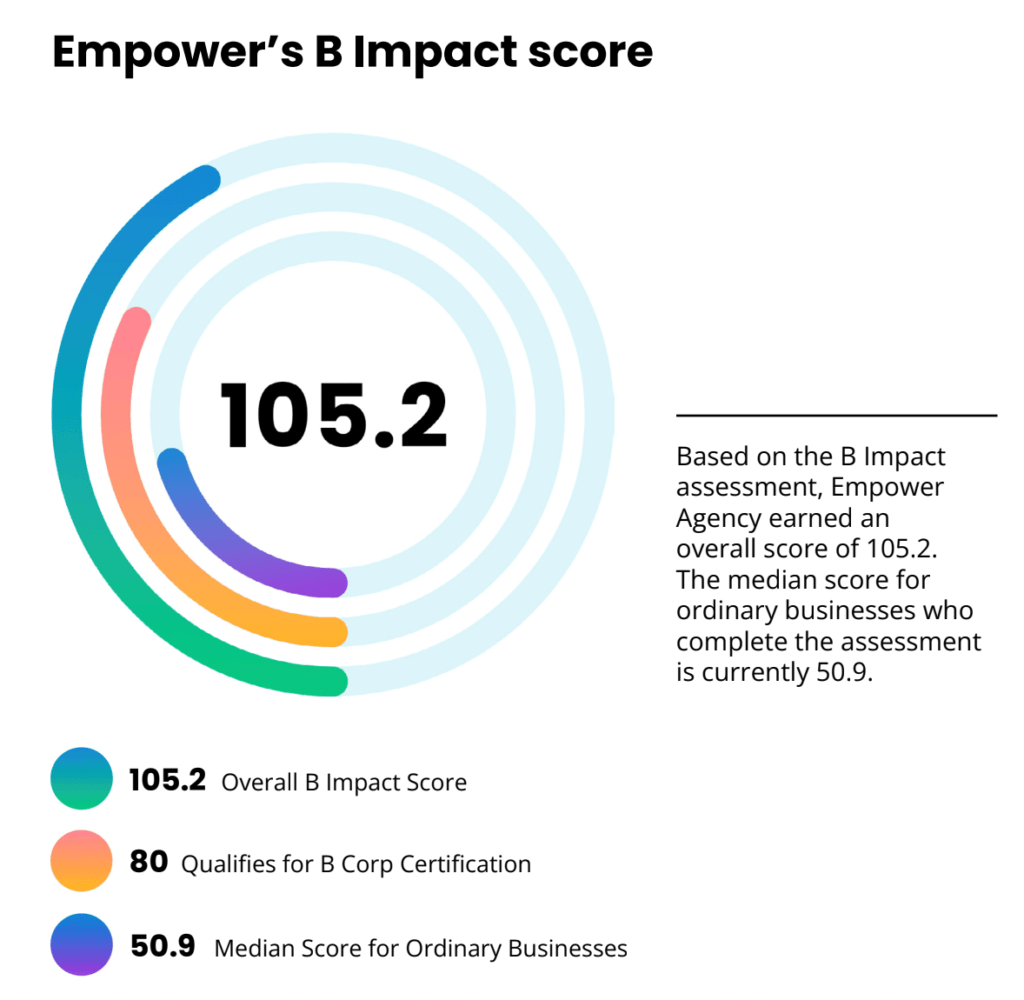 Read now: Empower Agency's 2023 Impact Report
See a breakdown of our score on our B Corp profile and read our 2023 Impact Report for more detail.
This blog was co-written by Ben Matthews, and Sena Gikunoo, one of Empower 2023 interns, who joined Empower via 10,000 Black Interns.