Empower has been selected for The Escape 100, a campaign highlighting the top purpose-led companies to 'escape to' in 2022!
Empower came out in the top 100 of 13,000 companies nominated, thanks to our inspiring mission, positive impact and flexible working environment – ranking alongside social enterprise giants like Oddbox, OLIO, Too Good To Go, Moving Worlds and more.
Empower were assessed on 145 data points across six criteria: Impact, People, Mission, Planet, Innovation and B-Corp, and employee reviews.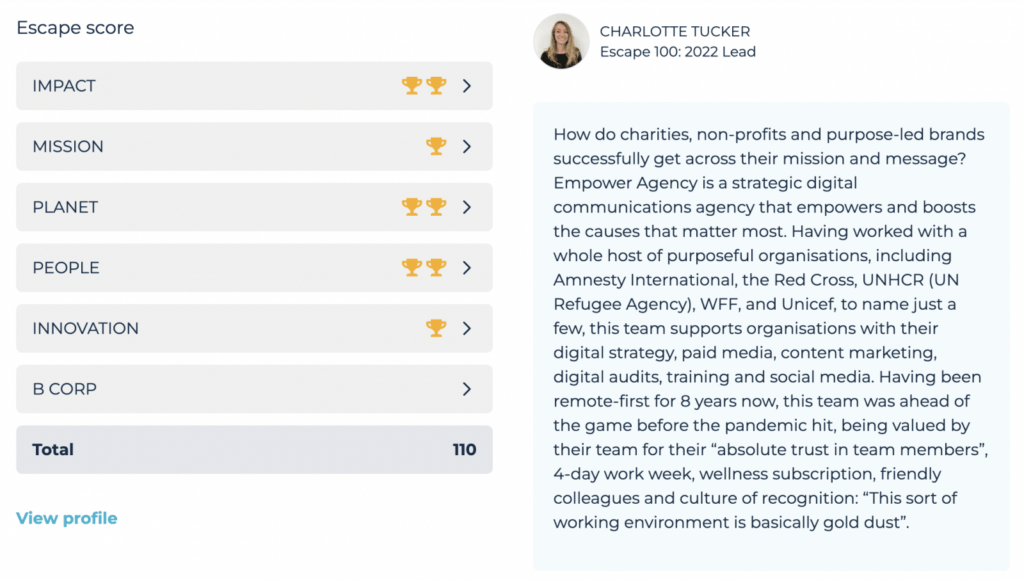 Why Empower were chosen as a winner
At Empower, our vision, mission and values are at the heart of what we do and our values drive all decision making for the business.
One of our team recently wrote a blog post about how we measure our values as a people-first business, and in regards to living those values, another wrote about Empower's remote-first, flexi working and how remote work has made all the difference for her mental health.
We survey our team and clients regularly, and strive to create an open space for feedback to help us constantly improve on our North Star of 90% team and client satisfaction.
"We work really hard to solidify and nurture what is great in the core of Empower's culture, while absorbing new ideas, and being ready to evolve. We only work for non-profits, many of them are in the sustainability space, and we've been remote-first and flexi since 2014, so our credentials for the Escape 100 are somewhat easy to find on paper. But we want to make sure they are truly lived, and are constantly looking for ways to improve, taking inspiration and feedback from inside and outside the business. One of our core values too is being human, so we admit when something is work in progress, or simply when we've made a mistake, so that we can look to do better next time."

Jaz Cummins, Empower Co-Founder & Director
This is an exciting month for Empower, as we are shortly expecting our B Corp certification, having achieved an initial impact assessment score of 111, above the 80 point minimum required to become B Corp certified.
Joyfully part of the Escape 100 process was seeking team feedback, so we will let the below speak for themselves, and link to the rest here:
"Empower might be 'remote first', but I've never felt closer to my colleagues than I have here. We work hard, we achieve brilliant things together, we're ambitious. but not at the expense of our mental health. You get the sense everyone genuinely cares for one another. For someone with anxiety and depression, this sort of working environment is basically gold dust, and I feel very much at home in a very short space of time." – Lorna
"Empower are a breath of fresh air – they really live their values around staff wellbeing, trust, flexibility, and inclusivity, and people are at the centre of their culture. I've never encountered a more welcoming team of highly skilled individuals, and there has been amazing scope for personal growth: I've had great opportunities to get stuck in with a wide range of varied, interesting client projects, and I've always felt heard and supported. Empower prove that it's possible to do top-tier client work without compromising on core values (a quality which is all to often a rare thing in the sector)!" – Will
"Our co-founders and colleagues celebrate each other almost daily, giving shout outs on slack, on team calls and in-person during team days for everything from completing projects and helping out another team member to good client feedback and sharing a useful, inspiring or entertaining link or idea. Recognition is embedded within the company and is something everyone participates in, which makes us feel valued not just by our bosses but by our colleagues too." – Elana
"Team wellbeing is a core value of Empower. Senior management are very nurturing, and wellbeing and mental health of employees is a top priority. From bringing in extra support to ensure that staff aren't over capacity and don't burn out, to making sure we have enough check-ins, to employee policies that look after our wellbeing, it's a central focus and this really comes across." – Hannah
"Empower is really supportive of my personal development and encouraging me to upskill and learn new things. The flexibility that working at Empower gives me and the understanding of what it is to be a working parent with two small children is invaluable. It is genuinely a pleasure to come to work again!" – Catherine
"I wouldn't want to work anywhere that didn't have a strong mission and purpose that supports positive social impact and climate change. Empower's mission to help organisations that do this work is what attracted me to the agency and it keeps me working there." – Bethany
About the Escape 100 award
The Escape 100 campaign was started by Escape the City. While on their mission to help 1,000,000 quit their corporate jobs and find work that matters to them and the world, they began to wonder: what actually makes an organisation different, forward-thinking, and impactful? They came up with a scoring system of 6 criteria (Impact, People, Mission, Planet, Innovation and B-Corp) to rank companies, including anonymous employee reviews – and 'The Escape 100' was born.
This campaign comes at a key moment in working history. Since the pandemic started, employees all over the world have been given time to think about what really matters to them, and are increasingly prioritising finding new meaningful, flexible and forward-thinking work environments (as reported by The Times). In Escape the City's recent survey of 1500 job-seekers, 89% want a career with a clear sense of purpose (up from 71% in 2015), with 73% saying that their reflection time during the pandemic has made them reevaluate their path. Furthermore, for 74% of professionals a flexible working location is the primary barometer they use when choosing a new role.
Dom Jackman, Founder of Escape the City, explained further:
"The job market is still dealing with the impact of the pandemic, and jobseekers will have to work harder than ever to find opportunities that align with their values. This list has been designed to rank organisations on the metrics that really matter. What are they doing to save our planet? How do they look after their people? What problems are they solving? These are all things that jobseekers want to know in 2022, and we hope this list helps talented people discover interesting opportunities and organisations that they might not have found otherwise."
Check out The Escape 100, 2022: Top purpose-led companies to 'escape' to in 2022 to see Empower's ranking and read our employee reviews!