A people-first values-led business
Since I joined Empower in 2020, it's been clear to me that the agency has been developed and runs with a very defined vision, mission and set of values:
People-centred: We are kind, generous, inclusive and human.
Driven: We are ambitious, professional and take initiative.
Ethical: We are trustworthy, transparent and fair
These values drive all the decision making for the business, from how we communicate to who we work with: we only work with clients and colleagues who align with our values.
Anyone who works for Empower or has been part of our interview process will be familiar with them and how much they guide us. Take a look at the article on our team culture for more insight on how we empower great work, happy clients, good working lives.
Actively practising our values
We do a lot to make sure we are actively practising our values, including making them a part of our annual business strategy and outcomes. The senior team works together with employees, clients and consultants to develop actions that support them. One of the ways we do this is by creating regular opportunities for feedback.
To ensure everyone feels safe to share, we provide multiple ways for the team to provide feedback: directly in-person, via 121's with line managers, within groups, via our external Diversity and Inclusion-led HR lead, or anonymously through quarterly surveys or an always-on digital feedback form.
Every piece of feedback is discussed, shared with the team and turned into an action to ensure we are achieving our outcome of actively practising our values.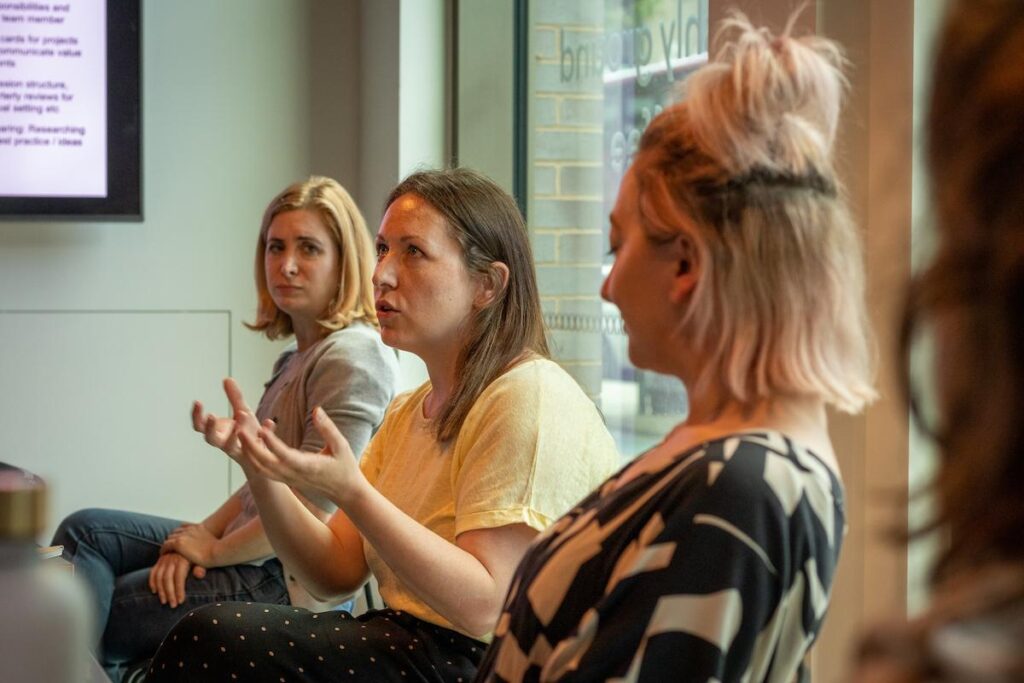 Using feedback to make Empower an amazing place to work
Another important factor is making sure the actions we take based on feedback are effective and our team and clients are seeing the results of their feedback. We do this by sending out a quarterly survey which helps us measure a variety of our outcomes and informs how we prioritise the actions we take in the next quarter.
We ask for both qualitative feedback, where everyone can share thoughts and insights about their experience, as well as quantitative feedback, where they rank us out of 10.
We aim to achieve and maintain a score of 9 out of 10 for a variety of areas that support our values, including how well we have implemented feedback, how much our team feels valued and how good we are to work with.
We started the surveys in August 2020 and have averaged a score of 8.2 for implementing feedback, 8.6 for the team feeling valued and 8.8 for being a great place to work (with 9.2 being our latest and highest score, achieved in April 2022).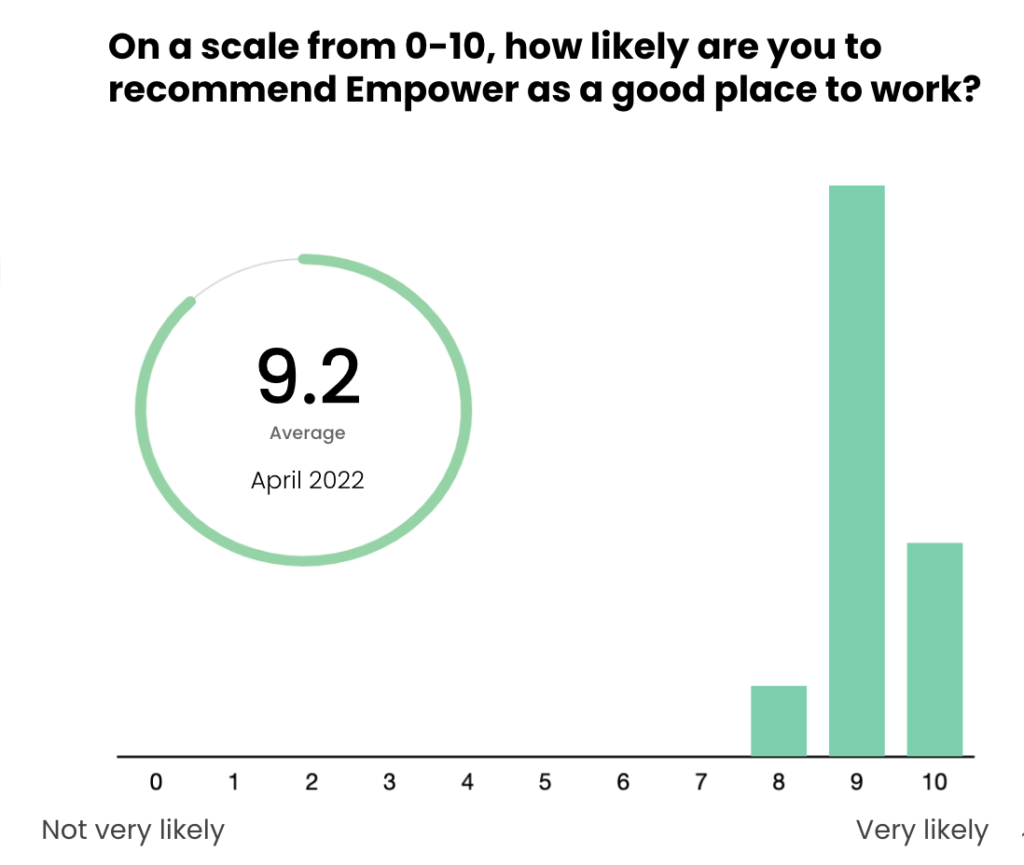 Motivation through team shout outs
Our qualitative feedback also includes a space to recognise and celebrate our colleagues. We love doing this internally but we also want to start doing this externally, so our clients and network can share the love and be encouraged to do the same.
We find it enormously motivating, and it provides a good balance to acknowledge the actions we still need to take to achieve a 10 out of 10.
Here's some of the feedback the team shared in our latest survey (the feedback was shared anonymously and shared with the Empower team at our latest team meeting).
Everyone is super lovely! Big shout out to Bongi in particular, who I know has had a very busy time this past week or so and has taken on a lot of new asks from the client. Bongi has handled it all so well, which the client acknowledges time and again during calls. Go Bongi! 
My celebration is for Jaz. There's no denying I've been going through an incredibly challenging time in my life – it's felt like one thing after another and no respite with my personal life, which has disrupted my flow and made 'normal' stuff all the more hard. It's hard to describe, but Jaz has just SO been there for me. Like properly been there. Listening to me offload and perhaps overshare… But being understanding, compassionate and keeping my ship steady. I'll be forever grateful to work with someone like her, because I've never once felt judged, or scared to ask for time off when I need it. There aren't many workplaces where you can say that, and it reaffirms exactly why I'm here, and how Jaz embodies Empower's values every single day. Thank you 🙂
Big shout out to Elana! She is a great listener, a great thought-partner and a massive support. She has a wealth of experience to draw on which is really valuable when you want to get a different perspective on things and she always makes time for a chat.
Kate has brought so much knowledge, thoughtful account management skills and experience from her previous role and it's having a great impact on other team members and the wider account managers team. Thanks Kate for sharing all your knowledge and experience!
Shout out to Catherine for the amazing team day activity we had, for being so lovely to chat to and a good sounding board for challenges, and keeping us all organised.
Bethany is so positive and calm and I always really enjoy talking and working with her.
Ben for being an empathic leader and staying open to always learning and trying new ways of doing things.
Massive kudos to Jed for jumping into every aspect of a busy account, in just his first three months. Amidst a few life challenges too. He's won over the client and really delivered at a high-quality level on a substantial workload.
Pat for juggling illness, family, multiple clients and all the video requests we throw at him – always with such a calm and pleasant attitude.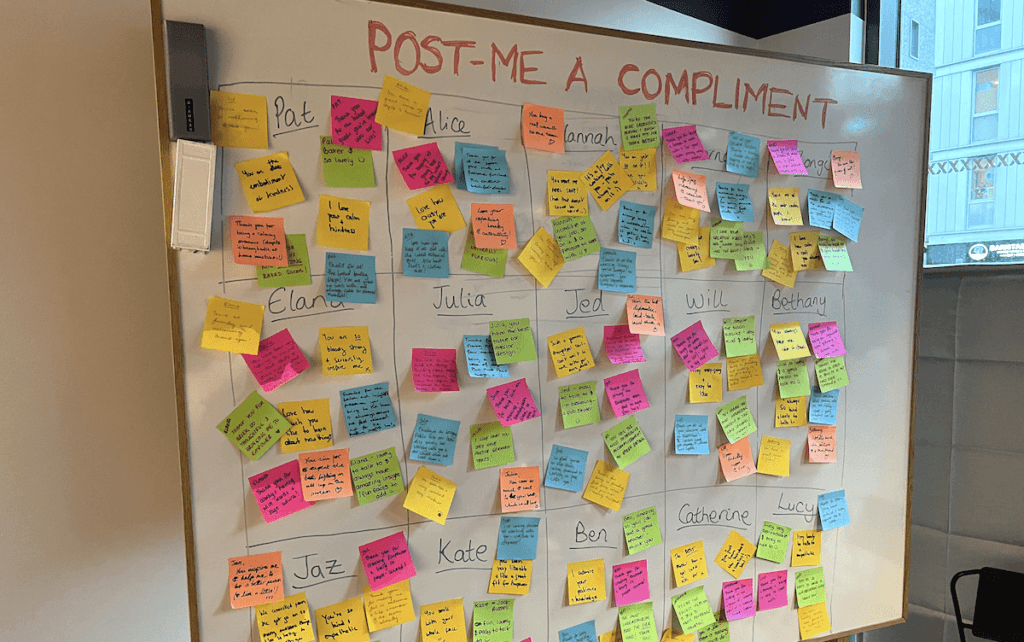 Bring your whole self to work
At Empower, we value people above all else. We know the happier the people we work with are with the work they're doing, the better our work for Empower's clients will be.
Take a look at how our team connected to each other through a speed dating session, for example.
The better Empower's work, the happier our clients are. Because of this, we make sure that everyone who works at Empower feels supported, challenged and inspired.
If it sounds like you align with these values, we'd love to hear from you.