At the start of July, Meta launched Threads, a Twitter-like app developed by the Instagram team. It quickly became the fastest-growing app in history, gathering over 100 million users in less than a week.
The goal of Threads is to enable positive, productive conversations. To do this, they aim to have stronger and stricter community guidelines, and also give users the option to set their profile to private, filter out replies that contain specific words, unfollow, block, and restrict other profiles.
It is currently available in over 100 countries, although not in the EU, due to the strict privacy laws of the region. The company told digital paper TechCrunch that they hoped to make Threads available for EU countries in the future.
Empower has been monitoring the launch of this new social platform, and we wanted to share with you our thoughts so far. It's important to note, however, that as it's such early days, much of the way this platform will work is still unknown – so watch this space…
Threads is a direct competitor to Twitter and works roughly in the same way, but with important differences:
1. Posts
There is a 500-character limit on posts.
You can add links, videos of up to five minutes and up to 10 photos in a single post.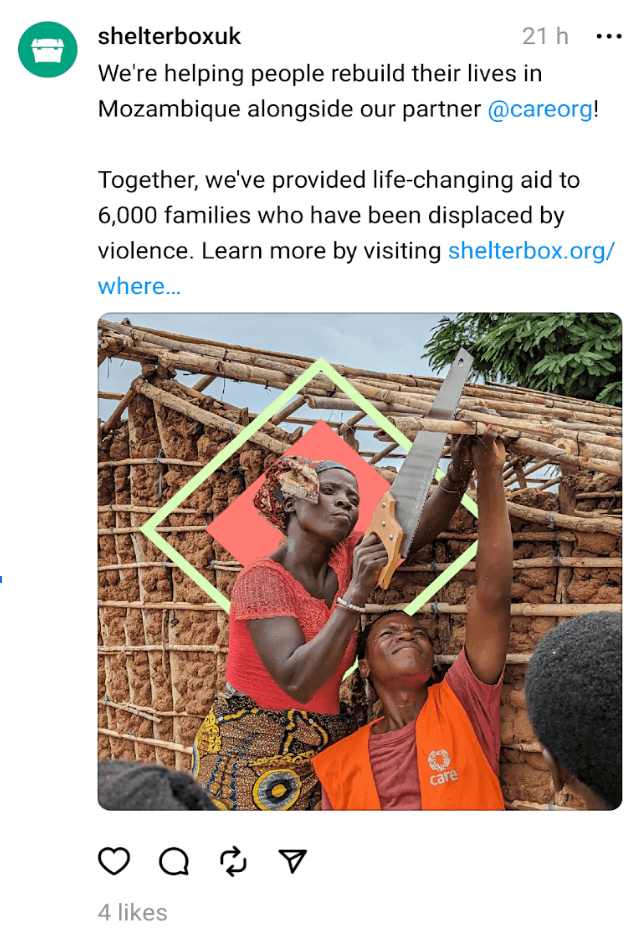 3. ActivityPub
The goal is to make Threads compatible with ActivityPub, the open social networking protocol established by the World Wide Web Consortium. This would make Threads interoperable with other apps that also support the ActivityPub protocol, such as Mastodon and WordPress.
Through ActivityPub, it will also be possible to transfer the content to another service and people using compatible apps will be able to follow and interact with Thread users even if they do now have a Threads profile (and vice versa). This means that posts would be accessible from other apps, which would allow for a much wider reach.
Integration with Instagram
For now, it is only possible to create a Threads profile through an Instagram profile. The app links directly to a user's Instagram account, importing their bio, username and contacts, facilitating the adoption of the new network.
Once a Threads account is created, the Threads user ID also shows on Instagram in the bio. This can be hidden on Instagram, but cannot currently be reinstated.
You cannot delete a Threads account without also deleting the linked Instagram account. However, it is possible to deactivate it without affecting Instagram.
There are two feeds: a "For You" feed shows threads from accounts you follow and others you might be interested in, and a "Following" feed, which exclusively shows the content of the accounts you follow. However, it is possible to filter the feed based on who you follow and whether you want to see their quote threads, reposts, mentions, replies, and likes or not. In line with their stronger community management, it is also possible to exclude threads with certain words.
Is Threads the new Twitter?
Twitter is going through a turbulent time. Just last week, it was rebranded as "X", which has yet again increased the number of followers migrating from the app and looking for a similar, text-based social media platform. Empower's co-founder, Ben, wrote about these changes in the "How to set a sustainable social media strategy" blog post. Although its functionality is still intact, many users are wondering if Twitter is still the right platform for them.
As for Threads, the number of accounts has plateaued, as Quiver Quantitative user tracker shows, although the number of active users has actually halved in the second half of July. In response to this, the Meta team is now introducing new features to increase retention, such as in-app translation and more interconnectivity with Instagram.
This poses the question of whether Threads is just a flame fanned by novelty, or whether it's responding to a real user need. The answer to this question will dictate whether Threads becomes a household name in the digital space.
Things to note
Threads is only available as a mobile app and there is no desktop version of it for now.
As it is so new, it currently cannot be linked to any third-party scheduling or analytics tools such as Hootsuite, Spout, Falcon etc.
Threads won't introduce ads until its user base reaches a critical mass: "Our approach will be the same as all our other products: make the product work well first, then see if we can get it on a clear path to 1 billion people, and only then think about monetization." – Zuckerberg
What is Empower doing?
We are keeping a close eye on the development of Threads. We have created an account, where we monitor the activities of partners, relevant organisations and spokespeople in the climate, for-purpose and charity sector.
In the next few weeks, it will become clear whether Threads will become a strategically significant network and for whom. In the meantime, we are learning more about ActivityPub and the opportunities it might present in the future.
Still unsure how your organisation could use Threads? Get in touch with us to discuss – hello@empower.agency.
Co-written by one of Empower's 2023 interns, Sena Gikunoo.
>> Learn more from our co-Founder: How to set a sustainable social media strategy