We are in odd and unpredictable times with Twitter.
Since Elon Musk bought Twitter, the social media platform has seen a lot of turbulence that has led to thousands of users migrating to other platforms.
Why? As the Tech Sensemaker newsletter described, "If episode one of Twitter's transformation under Elon Musk was about the structure of the business, episode two is about its identity."
Elon Musk and Linda Yaccarino (CEO) have announced that the Twitter branding and bird logo would be rebranded to "X". This had been widely rumoured since March of this year, when Twitter was put under the holding company of X-Corp, owned by Musk.
Changes to the logo on the site and app will be rolling out this week, including:
X.com currently redirects to Twitter.com
In certain markets, the new X logo has replaced Larry the bird, and will likely roll out to remaining markets over the next few days
Although Musk has said tweets and retweets will eventually be rebranded too, no changes are happening as of yet
Linda Yaccarino teased what the future of X could be, centred "in audio, video, messaging, payments/banking", a nod to their ambitions to become a WeChat-like service
There are no current changes to functionality of the platform and therefore no immediate actions for organic or paid media
Whilst rebrands in the tech space aren't rare, such as Facebook to Meta, Google to Alphabet, or Snapchat to Snap; these have all been name changes to the parent company, and the previous names have remained intact.
Rebranding Twitter to X marks a shift in this trend and is a clear step in Elon's plan to reinvent the service from not only its function as "global town square" to WeChat-like super app, but also a chance to renew its reputation.
The rebrand also comes at a time when Meta's Threads app, launched just over 2 weeks ago, has caused many to wonder if Twitter's/X's dominance in the message-to-all space would be superseded. Daily active users on Threads has dropped to 13M, a 70% decrease from its peak, and far off Twitter's/X's 200M.
With such a complete rebrand and 17 years of Twitter's brand salience now being replaced, the platform will have to work hard to remind users of the change, and all the reasons why they should keep coming back if they want to avoid any future threat from Threads.
Brands and many other stakeholders will be nervous about this volatility, and while not immediately altogether leave, they may well withdraw their advertising. Here one advertiser explains why they're pausing their Twitter ads campaigns:
"Performance fell significantly. CPMs didn't drop but our engagement way down. Maybe it's a shift in users on the platform, maybe it's ad serving related."

Related: Twitter adds public view counts: 6 responses to consider
How to mitigate against Twitter's changes
We recommend using this time to plan ahead and be ready should Twitter (or X) deteriorate quickly, but be mindful that at the moment many of our clients key audiences – civil society, media and policymakers, as well as corporates, remain as active users.
Short-term actions we're taking for client accounts on Twitter:
Downloading account data
Securing account passwords and 2-factor authentication
Manage account responses: Use Twitter's tools to control who can reply, block, mute and as a last resort make accounts private
Remaining cautious on verification: Musk's checkmark chaos continues, at time of writing with the arrival of grey, and gold. The system is currently widely discredited (see below), so not one to invest client reputation in, until some credibility emerges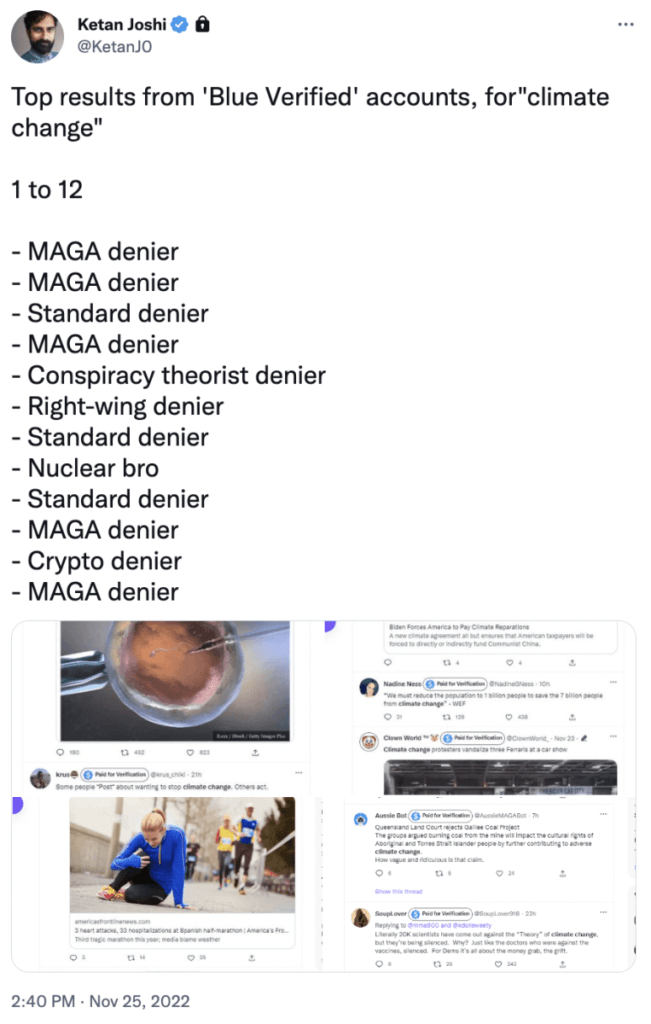 How to set a sustainable social media strategy
On the upside, these changes offer an opportunity to reset your digital strategy and refocus your digital comms approach.
Here are the steps we recommend you work through.
1. Focus on your owned channels
Your website and email lists are yours to control and are less affected by the algorithms. Focus on developing these and you'll be in a stronger position to communicate with your audiences over the long term.
2. Explore other platforms
Continue building out our presence on other social platforms and use this as an opportunity to refine the objectives and strategy for each. Also watch key users, such as journalists, influencers and policymakers. When you see them start to migrate from a platform, you'll know it's time to look at where they go and follow along.
3. Develop a content repurposing process
Content repurposing is where you develop your content once and reuse it across multiple platforms. What works for Twitter often works for Mastodon, LinkedIn, Facebook and more. A video can be transcribed, with the transcript being used for a blog post, which can then be used as content for social media.
4. Build in resource for engagement
It's no good migrating across to other platforms and just posting the same content. Social media has social in the name, so set aside time to engage with the communities. Encourage interaction and acutely start conversations to draw followers to your profile.
5. Measure real impact
Social media needs to have an objective for organisations. Whether that's driving website traffic, or acquiring new donors, make sure to measure the actual impact of each social media platform where it really matters and not just through vanity metrics.
---
Empower's Social Media Managers are monitoring these turbulent Twitter times and we'll share updated insights as the situation progresses. Email us at hello@empower.agency if you'd like to discuss your social media strategy.