Pinterest, the visual social bookmarking service of the web, launched in 2010 and is now considered one of the major social media platforms.
A new report confirms this by looking at how the platform has grown over those 4 years and reveals how Pinterest's 70 million users are pinning.
The report, by the business metrics service RJMetrics, took 50,000 random pinners and their pins, using this data to understand user engagement, the aspirations of pinners, and what this means for the future of Pinterest:
"People pin products they'd love to own, recipes they want to cook, and projects they want to tackle. Emma Stone pins about what she wishes her empty, 1-bedroom apartment looked like. "Pinterest Stress" is being blamed for pressuring moms to be increasingly creative in everything from food to parties. The platform has been so successful at getting users excited about tackling creative projects that it has spawned a sub-genre where users share their hilarious attempts at Pinterest perfection."
Here are the report's main Pinterest stats:
Pinterest Stats
84% of female pinners are still active in their fourth year
Pinterest users are 80% female and 20% male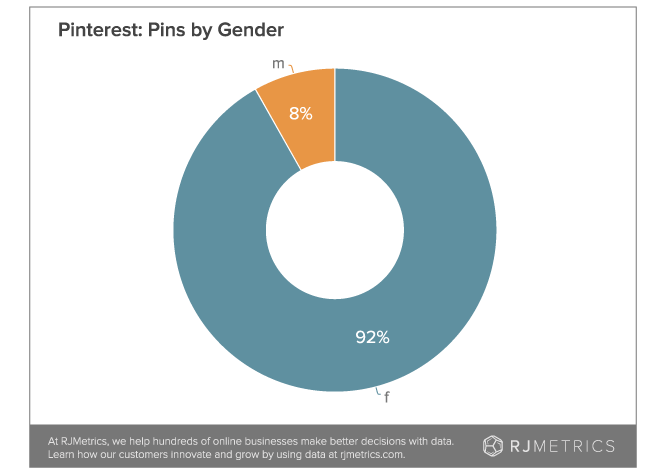 92% of all pins are made by women
Women account for 94% of all Pinterest activity, up from 87% in 2011
Over the past year, the average active female user has made 158 pins
The percentage of pins made by men has been consistently declining since July of 2011
20% of pins fall in the Food and Drink category, 12% are DIY & Crafts, and 11% are Home Decor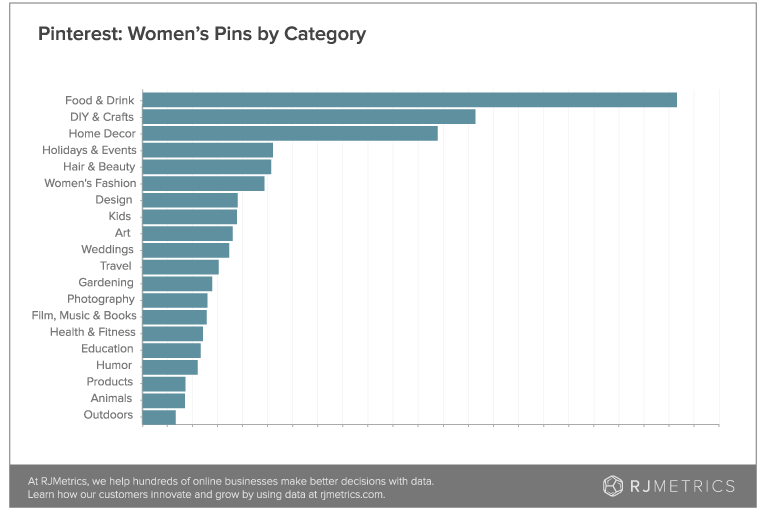 Lowe's is the number one board on all of Pinterest, with 3.4 million followers
32% of all pinning happens during during the core part of the work day, from 10am – 4pm
18% of all pinning happens in the evening, 9pm – midnight
The average female user posts 42 pins in year 1, which goes up to 152 in year 4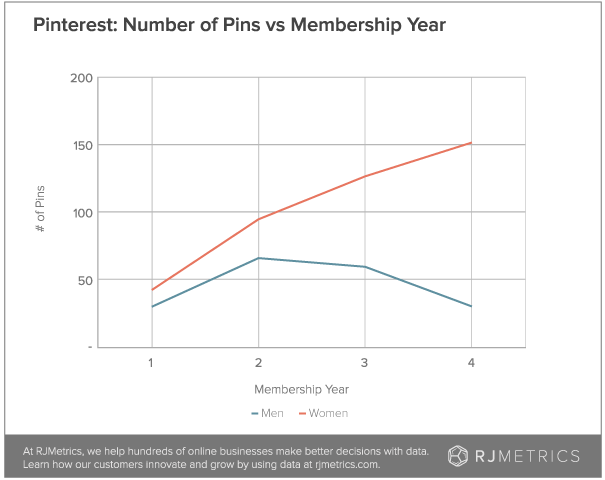 It's worth comparing these stats to other major social media platform:
Pinterest's female users outweigh its male users by 80/20, where as Facebook and Twitterare both close to 50/50 and Instagram's user base is about two-thirds women
Pinterest traffic falls after 4pm, which  is similar to Facebook traffic, which falls steadily after 3pm, and Twitter activity
Pinterest Growth
So how is Pinterest planning to get more men pinning and more people visiting the platform outside of work hours?
A wave of new features were recently announced are looking answer these challenges:
A mobile-first guided search system: allows users to swipe through new categories and narrow down search terms visually, meaning that more users
Custom categories: allows users to create a unique filter for images. Pinterest began with 32 separate topics, but the custom option allows users to create a narrow stream for content.
These new features build on the acquisition of the two-person VisualGraph team in January to help boost search and adding richer data to pins with the introduction of place pins.
 It's been a while since Pinterest's user numbers were last updated, so it will be interesting to see how these new features and the rise of mobile users affects their growth.