About Donorfy
Donorfy is a fundraising database and charity CRM available to small and medium-sized charities.
Launched in 2015 by charity technology experts Robin Fisk and Ben Brett, Donorfy is a cloud-based CRM that gives organisations instant access to their database from any device.
Fully integrated with other popular services like Eventbrite, Mailchimp and JustGiving, Donorfy has been rated the sector's favourite CRM for the last 3 years.
What's more, Donorfy's implementation costs and timescales are typically less than half those of other systems.
The Challenge
Donorfy approached empower to help them with their digital marketing strategy, content marketing approach and marketing automation strategy during a time of transition for their growing business.
The task was clear and measurable: one of Donorfy's main goals was to drive converted leads.
In summary, their key objectives were:
Establish a content marketing strategy to drive warm sales leads
Increase Donorfy's online presence & establish its image as the leading cloud-based CRM for nonprofits through the creation of regular marketing content
Create a measurement framework to ensure the content strategy is delivering positive ROI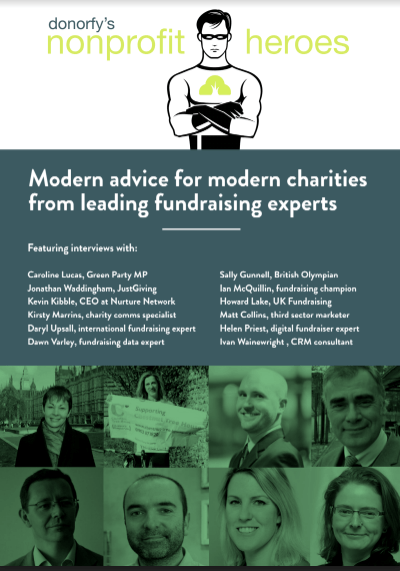 Ebook featuring interviews with nonprofit heroes created as part of Donorfy's influencer and marketing automation campaign.
The Approach
Empower initially completed an audit of Donorfy's existing online content and created a digital marketing strategy, focussing on the optimisation of existing marketing efforts and the development of measurable tactics.
From this insight, practical recommendations were implemented, including the optimisation of existing content for SEO purposes, the establishment of a content creation process, and the setup of email marketing and marketing automation campaigns to ensure marketing efforts are combined with generating sales leads.
Empower also improved the use of social media to generate traffic to Donorfy's content and sign up pages, engaging with industry influencers, and nurturing prospects and clients to become aware of and engage with Donorfy's services.
The Results
Donorfy were rated top 'CRM software' and 'top CRM supplier' in the 2018 Charity CRM Software Survey for three years in a row
Monthly website traffic grew by 267%
Monthly signups improved by 218%
Hire empower for your next campaign
Empower run Digital Marketing, Communications and Social Media campaigns for some of the biggest and best social good organisations around the world.
As independent consultants, we offer your impartial advice at reasonable rates, with the flexibility to work to your campaign schedules.