"We are delighted with these results! Empower went above and beyond to help us create an innovative tool that has brought our campaign to life, while also delivering thousands of concrete leads and extending our reach far beyond our usual audiences. The team proved to be knowledgeable and responsive throughout the entire process – from the initial creative development stages right up to organising a dedicated paid media campaign."
– Nicky Stephens, Digital Marketing and Innovation Manager, ShelterBox
About ShelterBox
UK-based charity ShelterBox provides emergency shelter and vital supplies to support communities around the world overwhelmed by disaster and humanitarian crisis. Since their founding in 2000, ShelterBox have provided shelter, essential items and technical assistance to help millions of the world's most vulnerable people recover and rebuild their homes after hurricanes, earthquakes, conflicts, droughts, cyclones and more.
Empower have been working with ShelterBox since 2018, covering social media, paid media, and elements of digital strategy. We began working with ShelterBox on a social strategy which achieved a clear roadmap and execution plan for the organisation, which has given the social media team confidence in their activity and output. We've also been working with the ShelterBox Book Club team, with our consultancy increasing signups by 96% and reducing acquisition costs by 30%.
See the Book Club case study here.
The Challenge
ShelterBox were looking for a digital agency to develop a tool to create leads for a new campaign, which aimed to support people who have lost their homes to extreme weather events exacerbated by climate change.
ShelterBox wanted the project to:
Position ShelterBox as an authority on the issues faced by some of the world's most vulnerable people when they lose their homes to climate-change related events.
Introduce ShelterBox to a cold audience as a disaster relief organisation specialising in emergency shelter.
Demonstrate climate change impact on some of the world's most vulnerable people.
Acquire new leads (fans and supporters) of ShelterBox from Gen X & Y
With KPIs focusing on generating digital leads and digital engagement (clicks, likes, comments, shares).
The Approach
We pitched various different approaches – including a petition – and were delighted when the ShelterBox team put their trust in us to embrace one of the less conventional options suggested.
Our starting assumption was this: many ShelterBox supporters will not know what it's like to be directly affected by climate change, as they lack the lived experience. But what if we asked them to imagine surviving a climate disaster?
A so-called digital mobilisation tool would make this possible. Working like an online version of a classic 'choose your own adventure' story, the tool would allow users to step into the shoes of a family affected by a climate disaster, and guide them through a series of scenarios relating to food, shelter and survival with an end result highlighting the vital services that ShelterBox provides.
We planned to create scenarios based on real-life ShelterBox case studies – building an authentic, credible case for support while informing users on the wider human context behind ShelterBox's campaign – and would also hire an illustrator to establish the evocative visual backdrop the campaign theme deserved. In the end we brought in Lily Padula, a fantastic illustrator whose credits include both the New York Times and The New Yorker.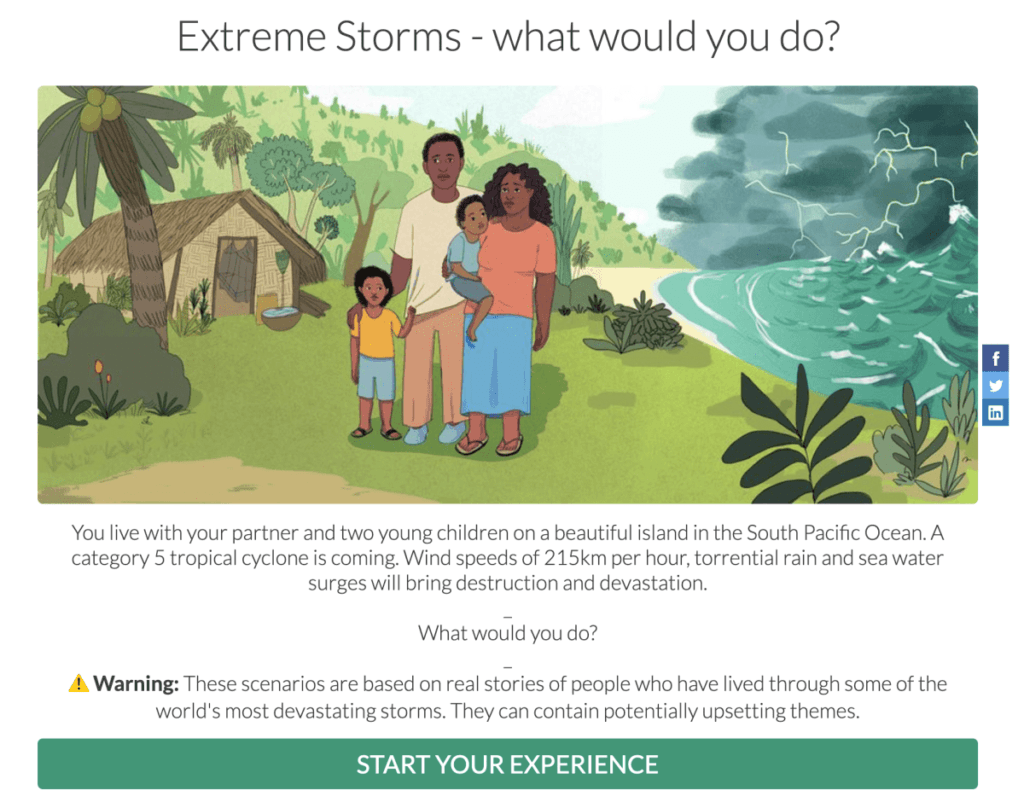 Using a third-party platform, there would be other advantages: the app is editable using no code tools (so is cost-effective), is embeddable in the ShelterBox website, has built-in analytics and email integration, along with straightforward social media sharing.
Finally, we also planned to support the tool with paid media, in order to drive the required levels of traffic to reach ShelterBox's objectives, and also created a couple of additional versions of the tool to push out to ShelterBox's warmer audiences as an engagement piece.
Having worked closely with the ShelterBox team to develop a narrative backbone and visual direction, the final digital mobilisation tool was launched in late May 2022 to tie in with ShelterBox's wider campaign moment.
Try the Extreme Tools quiz for yourself here.
The Results
Across the board, our results exceeded expectations. Within the first month of release the tool received over 12,000 views – of which over 5,000 were completions at an excellent 17% conversion rate.
On the paid media side the number of leads was 200% higher than the expected figure, while costs-per-lead and costs-per-click were 52% and 40% lower than expected respectively. This was across a range of targeted audience segments that saw significantly higher leads and conversion rates than broad non-targeted ads.
We also tested a variety of different creatives, providing some insightful data on which campaign-related visual materials most resonated with audiences.