"Empower are friendly, knowledgeable, diligent, and patient. You take a coaching attitude which is so important for nonprofits who are less experienced with (and often intimidated by) paid social. Thanks all for taking us through this process and producing so many valuable learnings for our growth and marketing functions."

Hannah Reiss, Head of Communications, B Lab UK
About B Lab UK
B Lab UK is a charity founded in 2015 to advance the B Corporation Movement in the UK. Certified B Corporations, or B Corps, are companies verified by B Lab to meet high standards of social and environmental performance, transparency and accountability.

March every year is B Corp Month, a time when every certified B Corp around the world joins together to celebrate the B Corp movement and what it means to be a B Corp, under one unified campaign.
This year, B Lab UK wanted to support their wider B Corp Month messaging with a paid social campaign, specifically aiming to reach and engage businesses in priority growth regions in the UK – Wales and the North West, including greater Liverpool and Manchester.
The Challenge
B Lab UK approached Empower with two key aims in mind:
Lead a paid social campaign strategy to reach and engage businesses – potential future B Corps – within the priority growth regions, with the overarching objective of increasing the number of leads from these regions.
Support B Lab UK in testing and learning what works best for them on paid social, so they can improve future campaigning efforts.
Working across Facebook, Instagram and LinkedIn, we developed a lead generation and test-and-learn strategy, which included advising B Lab UK on paid social creative best practices for using their home grown assets.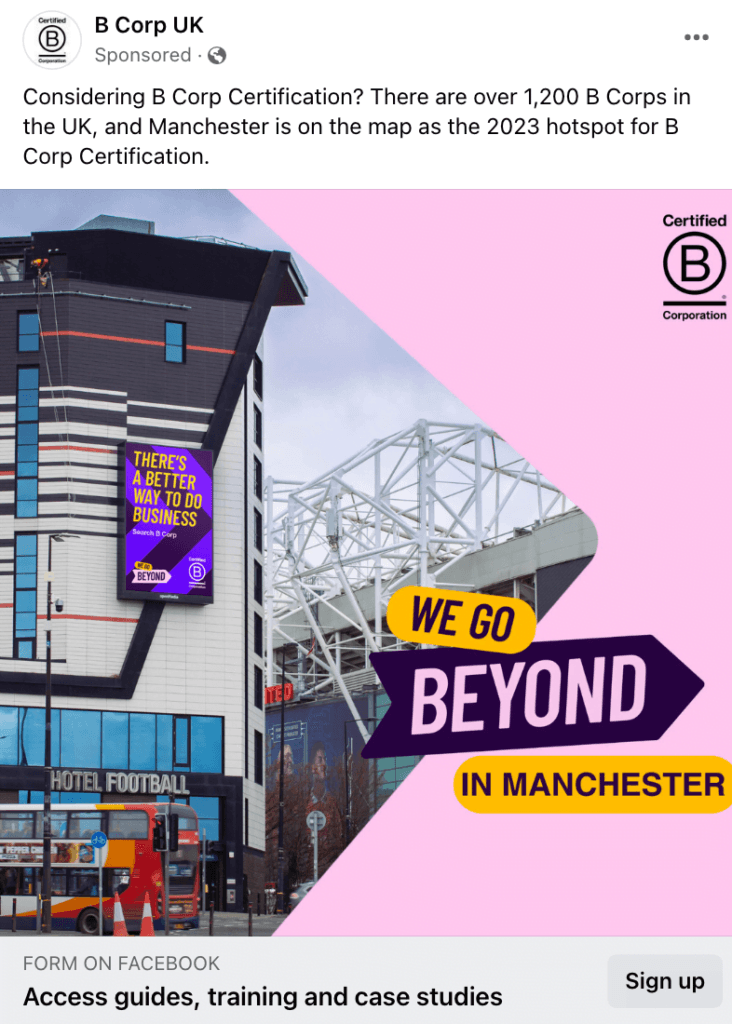 The Approach
As B Lab UK's main objective was to gather leads, we used the inbuilt platform lead generation form capabilities as the core action to send audiences towards. We guided and supported B Lab UK in polishing their messaging and creative assets from the B Corp Month campaign to be aligned with best practices for paid social.
Empower set up, executed and managed the paid social campaign, including supporting technical set-ups in Salesforce, Mailchimp and Zapier.
Throughout the campaign, we monitored the campaign performance, frequently communicating key opportunities for improving performance to B Lab UK. Working as a client-agency team, we made agile decisions together, including on the distribution of budget between platforms, ads and regions, adjusting targeting, setting up or switching off ads as the performance developed.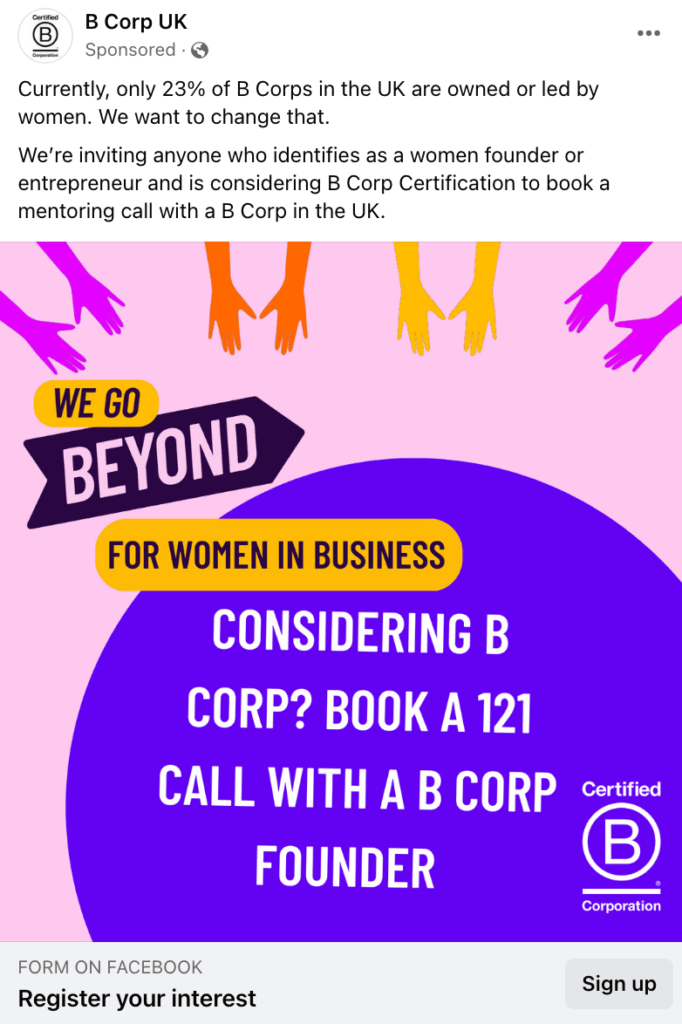 The Results
Through B Corp Month, Empower helped to generate valuable leads across B Lab UK's priority growth regions, as well as signups for their new training course and women's leadership programme.
Alongside these results, Empower delivered crucial learnings and guidance on which of the target markets, platforms, creative types, messaging approaches and audience segmentations performed best for B Lab UK.
They also now have a set of realistic, tested performance benchmarks for their main social platforms to use for reporting on future campaign performance.
B Lab UK are now able to take these insights forward into future campaigns nationwide and for their priority markets.