The focus of Empower is to help charities understand how to use digital technology to keep serving their beneficiaries. This has become even more important in recent months due to the effects of social distancing and lockdown, leading many charities to increasing their digital presence or even turning previously offline services into digital services for the first time.
But how can charities, sometimes with limited resources and expertise, continue to help existing audiences understand the services they offer? Or even help new audiences understand their services using digital channels? 
That's where digital marketing comes in.
Empower runs digital marketing campaigns for larger charities and nonprofits including the UN Refugee Agency, UNICEF and Amnesty International. More recently, we've been working with Catalyst members Comic Relief and CAST on the Tech Vs Abuse programme, which helps a range of organisations design and build new digital services aimed at the vulnerable people they support.
But despite the difference in sizes of these organisations, many of the challenges that these large and small organisations face are similar:
Is digital right for our cause or service?

How can digital marketing help us further our cause and support our beneficiaries ?

Who are our audiences online? Can digital marketing channels help us reach them? 

Do we have the resources to reach our goals?

How can we measure and understand what marketing works best for us?
Let's take a look at how digital services like yours can use marketing and SEO to reach your audiences.
What areas does digital marketing cover?
The first thing to understand about digital marketing is that the term covers a whole range of areas, with each area having its own discipline and best practice.
Here's an overview of the different areas of digital marketing, along with a few basic insights into how those channels can be best used:
Email Marketing

–

Sending emails to many people at once. You will have to ask people to subscribe through places like your website, in person events, or perhaps on social media.

This is low cost to use, especially with a free service like

Mailchimp

. Email marketing also typically has the highest ROI (Return On Investment) for digital marketing as people give more attention to something in their inbox and will probably have a level of interest already to have given you their contact information. 

Social Media

– Using social media platforms like Facebook, Instagram and Twitter to connect with other people and share your content.

You may think social media is a low resource digital marketing channel, as there is no "cost" to use social media, but it can take up significant resources to build up a following or 'likes' through regular posts and engaging content. 
Google Ads

–

Ads that appear at the top of Google search results based on keywords associated with your organisation (you might not even realise they are ads!)

Some people pay for these ads, but the

Google Grants

scheme offers $10,000 free advertising for charities per month. But there's time investment needed to ensure it's effectively utilised. 

Facebook Ads

–

Paying so that more people see your Facebook posts.

Advertising on Facebook has proven effective for many charities and nonprofits, but it can be expensive. You'll generally need an expert to help you get the best results. However, Facebook Ad for charities can start at a low cost and generate strong results.
SEO

–

SEO, or Search Engine Optimisation, is all about tailoring your website and publishing content so that it is more likely to appear in search results.

SEO can help drive traffic to your website without paying for ads.  But SEO relies on you writing and publishing new content regularly to your website which can  take a long time. You also need to do it in a way that enables search engines like Google to find your content.

Video

–

Using online videos to promote or support your service.

Although producing a slick video can be expensive, videos can be created at a low cost, such as when filmed on a smartphone. People are happy to watch a video that is authentic and honest, even if it isn't professionally produced. Once created, videos can be repurposed for different channels, such as Youtube, your website, and across social media. 

Partnerships

–

Using your contacts to help you promote your service.

This involves tapping into other people's networks. You might ask colleagues at other organisations to share information about your service on their social media, email or other marketing channels. This just requires you to think about who (organisation or individual) in your network supports you or is working towards the same cause? Can your service or content be featured in their marketing activity?
This list is not comprehensive, there's digital PR, influencer marketing, podcasts and much more, but even just with these key areas there's a lot to think about. The world of digital marketing is always changing and never ending!
Should we try to use all digital marketing channels?
Does this mean you should try to cover all digital marketing strategies and channels for your own products and services? Not at all. 
Instead of stretching yourself thinly across lots of digital marketing channels, we'd recommend analysing which channels are the most effective at reaching your target audiences given the resources you have, and focussing on the channels that are most effective for you.
To do this, you'll need to assess how much resource, budget and expertise each digital marketing channel will require. We've put together this table to help you assess each area based on typical levels or resource and results, but you should reflect on your organisation's own resources when assessing this table: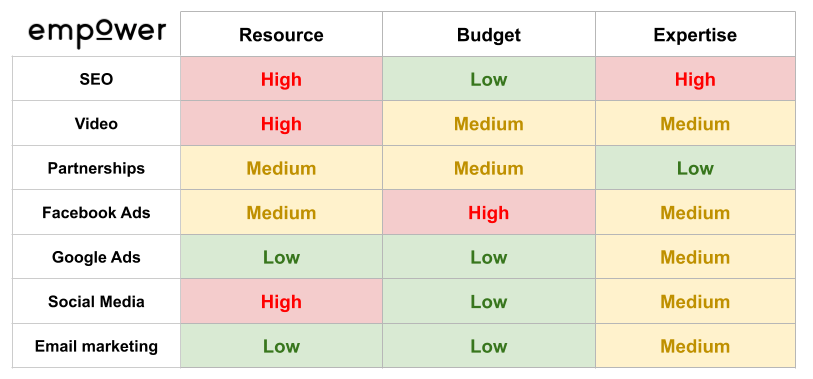 Which digital marketing channels are the most effective?
Once you know which digital marketing channels you want to use, how do you know which ones will be the most effective?
To give a practical example, Empower ran a survey with the Tech Vs Abuse programme participants to find out which digital marketing channels they used, which channels they had the most confidence in using and which were the channels that had the most impact.
The chart below shows a sum of the survey result scores for how confident each organisation was in using that area of digital marketing. The higher the score, the more confident they are in that method of digital marketing.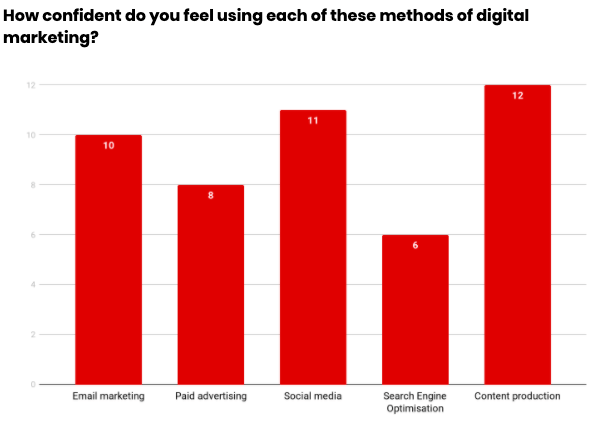 Here we can see that these organisations have the most confidence in using social media and content marketing (e.g. writing blog posts and articles for their website). But people felt much less confident about how to use SEO and paid advertising.
However, when looking at which digital marketing channels are the most impactful for their organisation, the situation changes. Again, the higher the score, the more impactful they think that method of digital marketing is.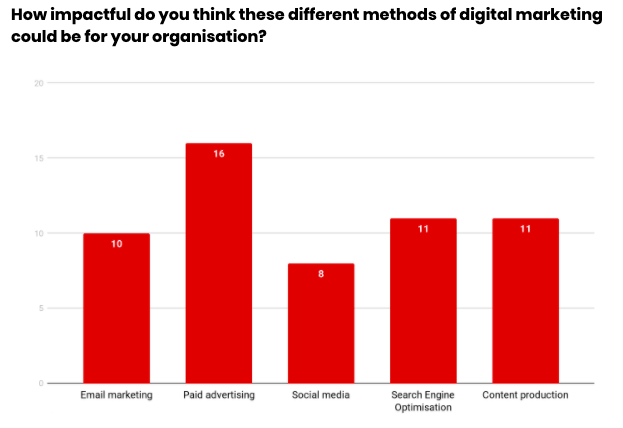 Here we can see that paid advertising is likely to create the most impact, followed by SEO and content marketing. Social media was viewed as having the least impactful for their organisations.
In this case, the organisations would do well to apply for the Google Grants programme to take advantage of the $10,000 in free monthly ad spend, and to start writing more content for their websites in order to start building up SEO benefits (though there is a lot more to SEO than this!)
It can also help to cross reference the digital marketing channels you want to use with how your online audience behaves. 
This graph gives an overview of how to think about where digital marketing channels might be most effective: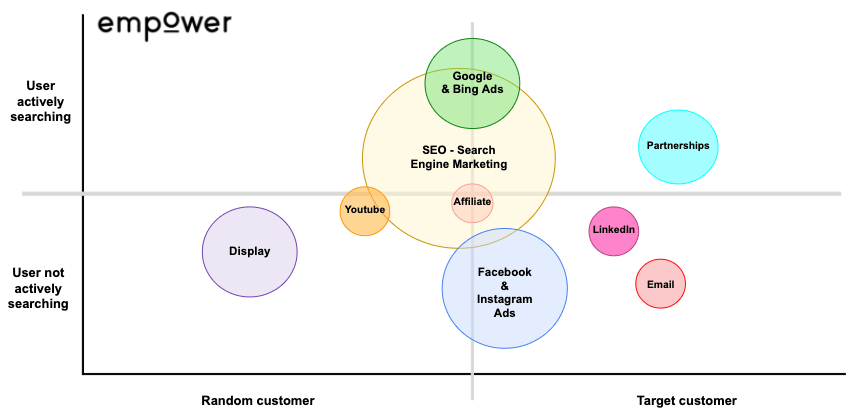 For example, if you think your audience will be actively looking for a product or service then Google Ads, SEO and YouTube may be effective channels to use. This will mean any content you create will be more likely to appear in search results when someone makes a Google search.
Whereas if you think your audience will not not be looking for your service, but you know who they are and how to engage and interest them, then you may want to target them using social media, Facebook Ads and email newsletters.
Where else can you get digital marketing support?
If you're looking to understand more about digital marketing and how you can use it to benefit your services, there are lots of options out there.
Empower's intro to digital marketing training course is free and aimed at charities and nonprofits like you who are looking to understand different digital marketing methods, to enable your teams to understand potential methods of marketing to maximise the impact of your projects and reach more of your beneficiaries. You can register for the free intro to digital marketing course here.
Other free digital marketing training is available through Google's Digital Garage, Hubspot Academy, and Facebook Blueprint. Each of these services has online training aimed at beginners, though the content isn't tailored towards charities and nonprofits.
Empower has also volunteered our time through the Digital Candle service and will be helping charities get to grips with Google Ads and the Google Grants programme. Take a look at how you can get 1 hour of free volunteer support here.
Wherever you are on your digital marketing journey, there are plenty of resources out there to help you. Just make sure to focus on the areas that will be most effective for your organisation to reach and engage the audiences that need your support.
A version of this article first appeared on the Catalyst blog.