Google Analytics 4 (GA4) is a powerful tool, helping marketers gather valuable data about their websites that can be used to improve marketing and business development strategies. Here's what you need to know about GA4 and how to make the switch from Universal Analytics (UA).
In October 2020, Google announced the most significant change to Google Analytics ever: The introduction of Google Analytics 4. Then, in March 2022, another update: Universal Analytics will stop processing new hits by July 2023.
This didn't go over so well, with some branding GA4's user interface "not intuitive" and "difficult to use". And whilst many marketers are still in the denial phase, there's just no way around it.
That's why we have compiled a guide with everything you need to know to get started with Google Analytics 4.
What has changed with Google Analytics 4?
In short: a lot.
Gone are the days of Universal Analytics's session-based model, which meant user interactions were grouped within a given timeframe.
In contrast, GA4 uses a user-centric, event-based model, allowing for more accurate reporting.
Moving from a sessions-based model to a focus on events provides marketers with major benefits, such as cross-platform analysis (yes, you can now collect website and app data in ONE report) and makes GA4 more flexible and better able to predict user behaviour.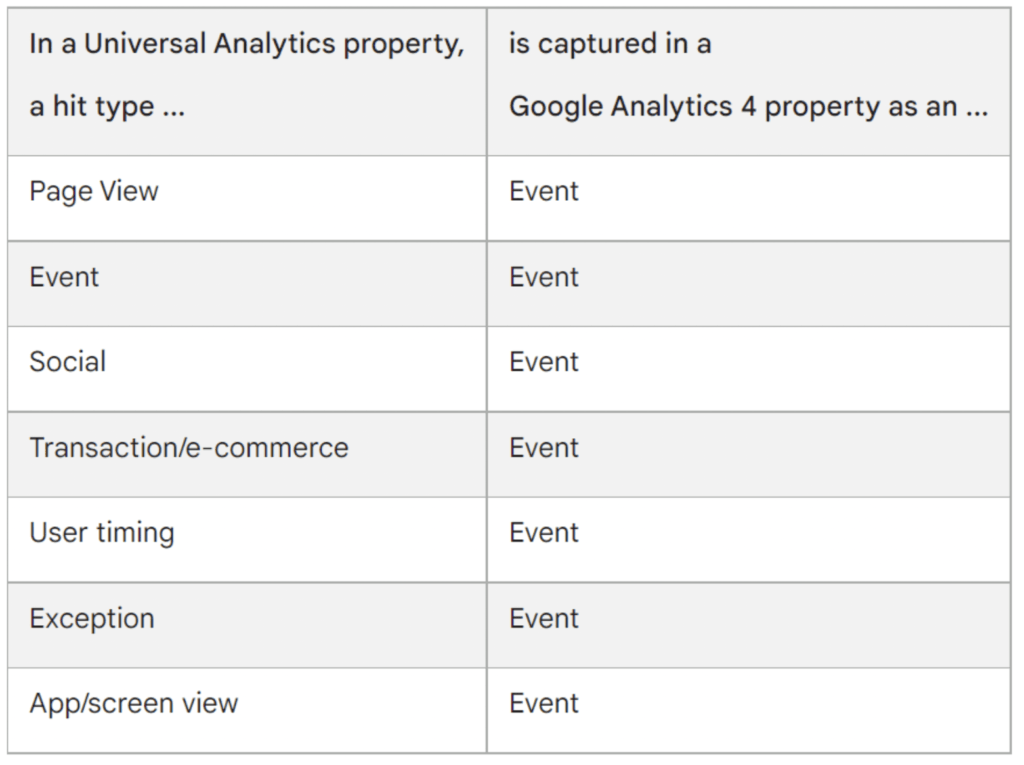 On their Help Center site, Google state the following benefits of GA4:
Privacy-focused and durable for the future
Intelligent, using machine learning to unearth insights about the customer journey across platforms and devices
Enhanced, seamless integrations with Google's advertising platforms to optimise campaign performance and drive greater marketing ROI
How to make the switch to GA4
Configuring GA4 really is as simple as a few clicks. Your UA account will be left unchanged, continuing to collect data and can be accessed via the admin screen.
Login to your Google Analytics Account.
Click Admin. Gear icon, bottom left navigation.
Confirm that your desired account is selected.
Confirm the desired property is selected.
Click GA4 Setup Assistant, the first option in the Property column.
Once inside the Setup Wizard, click the large blue button, Get Started.
There is only one more step, click the blue button to Create Property.
Once this process is complete, you will see "You have successfully connected your properties" at the top of your Google Analytics 4 Property Setup Assistant page.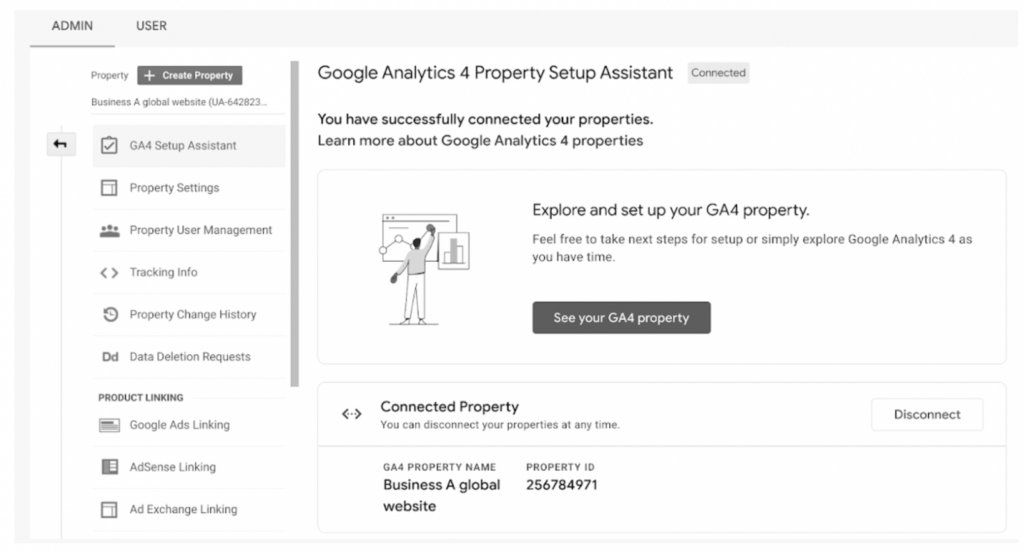 Make sure to make a note of your GA4 property's name so you can find it later.
This wasn't too bad, right?
Important Note: The GA4 setup assistant works automatically with gtag.js. If you use a website builder such as WordPress, Wix, etc., you will need to add the Analytics tag yourself.
How GA4 will help your reporting
With the shift towards user privacy and customer control, it's becoming increasingly difficult to collect user data as people travel across multiple platforms, using multiple devices.
GA4 comes with country-level privacy controls so you can keep collecting valuable data whilst making sure you comply with privacy regulations, such as the EU's GDPR. In addition, GA4 allows you to customise who has access to what data.
GA4's has also simplified its reporting interface, making it a lot easier to spot key trends and irregularities in data. It's been divided into two main sections, making it Google's most user-centric analytics so far:
The Life cycle collection will help you understand user activity from acquisition to conversion.
The User collection will help you learn more about the people who use your site or app.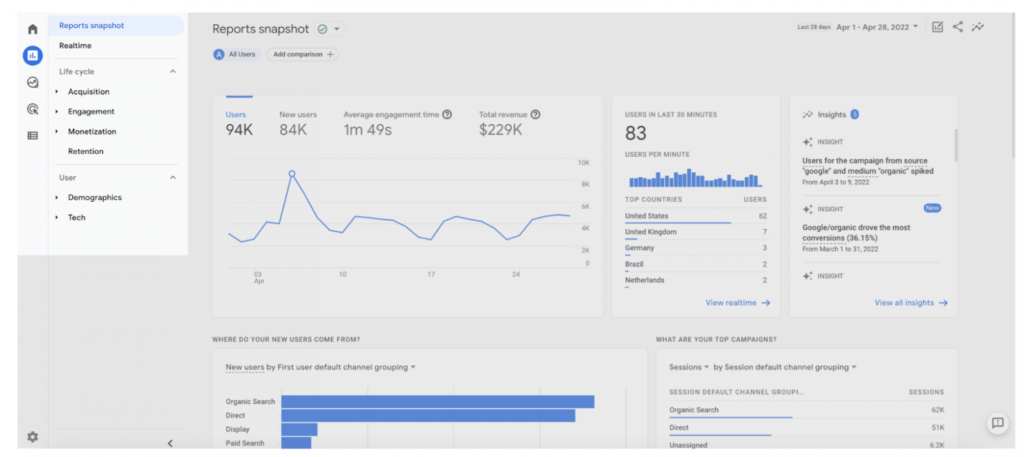 In addition, GA4 now merges data from apps and websites, making it much easier for marketers to have a complete view of engagement across platforms.
Lastly, one of GA4's most powerful features is Predictive Metric, using AI to predict the future behaviour of your users and helping you learn more about your customers.
Summary: Switching to Google Analytics 4
Although you can still use UA until 1st July, 2023, we recommend adding GA4 to your account as soon as possible. This will help you get used to its new interface and, in addition, you can already make use of GA4's new features, giving you more insight into your audience and the performance of your campaigns.
For now, adding GA4 to your account won't change anything in your current Analytics set up, as you'll be able to use and view both until July 2023. After that, your old UA account will stop processing any new data and you will have to make the switch to Google Analytics 4.
So make sure to start right away!
More Resources
How To Use Google Analytics 4 for Your Small Business