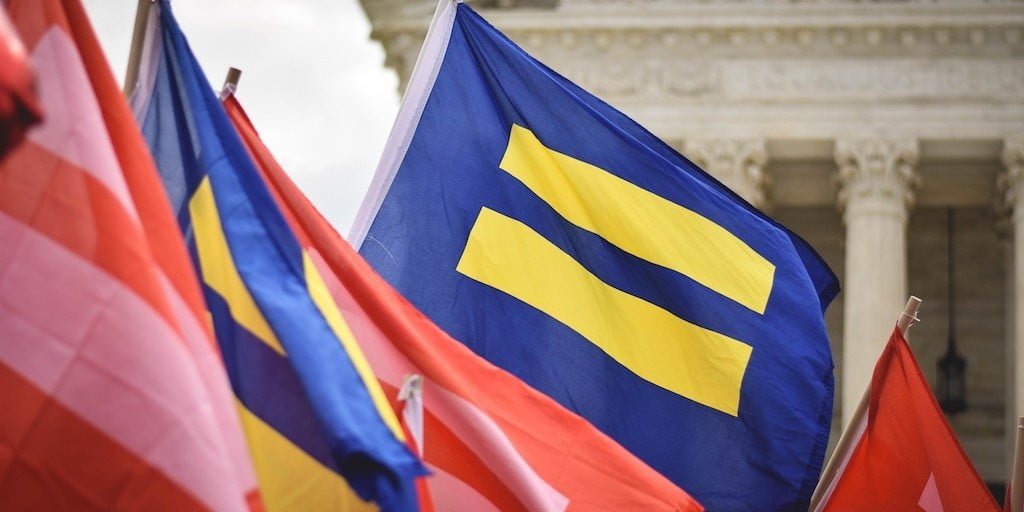 As part of empower's Glossary of Good series, Amanda Reeder finds out what 'Equal Representation' is about in the context of women in leadership positions.
What is Equal Representation?
Equal Representation can actually mean a few different things, depending on the context. Sometimes, the term is used in reference to political movements that seek proportional representation in their government in terms of the population of a particular region versus another.
However, it is also commonly used to describe the movement to champion women and gender diversity in government and in executive business roles, which is what we'll cover in this blog post.
Advocates of Equal Representation want to encourage the normalisation of formal 'quotas' of women in global leadership roles, with the help of male allies. Many proponents of Equal Representation see quotas as a necessary temporary measure to help advance equal representation.
The United Nations Division for the Advancement of Women (DAW said in a 2005 report about Equal Representation that "as allies, men can support women's initiatives and movements in their efforts towards equality. As major 'gatekeepers' of policy-making institutions, men can leverage women into positions of power either through direct selection and appointment".
Why does Equal Representation matter?
The UN report also said that "equal participation of women and men in decision-making institutions was a key element in the democratization of governance. By effectively increasing the descriptive and substantive representation of women in political life at all levels, the potential for change in political practices—and therefore in outcomes–towards the empowerment of women can be better realized; thereby promoting a more democratic and just society."
Additionally, a study of women's policy impact in government shows that women consistently co-sponsor more bills related to women's health than their male counterparts, regardless of political ideology.
Unfortunately, we are nowhere near equal participation of women and men in decision-making. For example, in the UK in 2017, women only make up 29% of our MPs, and there are more men named David on the list of FTSE 100 CEOs than there are women.
In the United States under the current administration, they are ranked 104th when ranked for in women's representation in government, with a congress that is made up of 80% men.
Globally, only 22.8 per cent of all national parliamentarians were women as of June 2016, a slow increase from 11.3 per cent in 1995.
These statistics show a dire need for women to be purposefully encouraged, promoted and appointed to leadership roles all all levels to help them get to the top tier of governance in parliament and in business, especially when research shows women's representation in global politics has actually stagnated in the last two years.
What are some examples of Equal Representation in action?
Though we have a very long way to go, the movement of Equal Representation is buoyed by by several major actors on the world stage who are championing equal representation in government and business.
For example, in 2015, Canadian Prime Minister Justin Trudeau announced that his cabinet would be the first in Canadian history to purposefully include 50% women. Here is an interview with the Canadian Minister of the Status of Women:
This graph also shows the handful of other countries where women hold at least 50% of ministerial positions: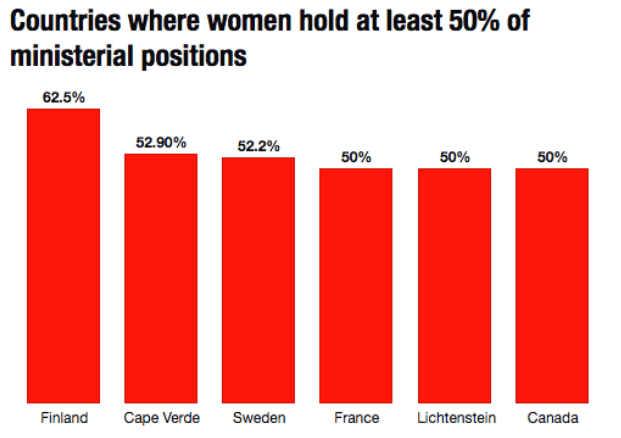 Equal Representation – Glossary of Good
In the business world, inclusion of women isn't just good for society, it's good for the bottom line, with research showing showing firms with more women in the boardroom are actually more profitable.   Salesforce CEO Marc Benioff is a great example of an ally, with his insistence on equal pay and that all important meetings include at least 30 percent women.
This report from the European Parliament in 2012 outlines the efforts (of varying degrees of success) made by several EU countries to encourage gender parity on corporate management boards.
Passionate about equality? Here are some great organisations making a splash:
—
Explore more of empower's Glossary of Good: