You've seen it all over social media – those vibrant green ribbons popping up everywhere. But what exactly is Mental Health Awareness Week? If you're here, you might be wondering what it's all about.

Organised annually by the incredible Mental Health Foundation, this awareness-raising, myth-busting week is an opportunity to bring the UK together for mental health. Its goal is to shatter stigma, ignite conversations, and help people truly understand and prioritise their mental well-being.
Mental Health at Empower
Here at Empower, we're on a mission to champion mental health because we understand that mental health is health. Just as workspaces strive to keep everyone physically safe, we're committed to fostering psychological safety. Everyone should feel comfortable and supported. Here are some of the initiatives we've implemented to ensure just that:
Embracing diversity: We're continuously developing our strategy to create a workplace where everyone can bring their whole selves to work. It doesn't matter who you are or where you come from – we value and celebrate our differences.
Mental health support: We all need someone to talk to from time to time. That's where Spill comes in. This not-so-secret trump card for mental health is an invaluable resource that ensures our employees have access to the professional support they need.
Openness and vulnerability: Mental health can often feel like an unbridgeable topic, wrapped in layers of taboo. But we encourage open conversations about mental health where honest exchanges can take place. We acknowledge that mental health affects us all and by talking openly, we can reduce the stigma and show up for each other.
In line with our commitment to mental health, we're thrilled to be participating in Mental Health Awareness Week. This week provides an incredible opportunity for us to contribute to raising awareness, not just externally, but also within our own team.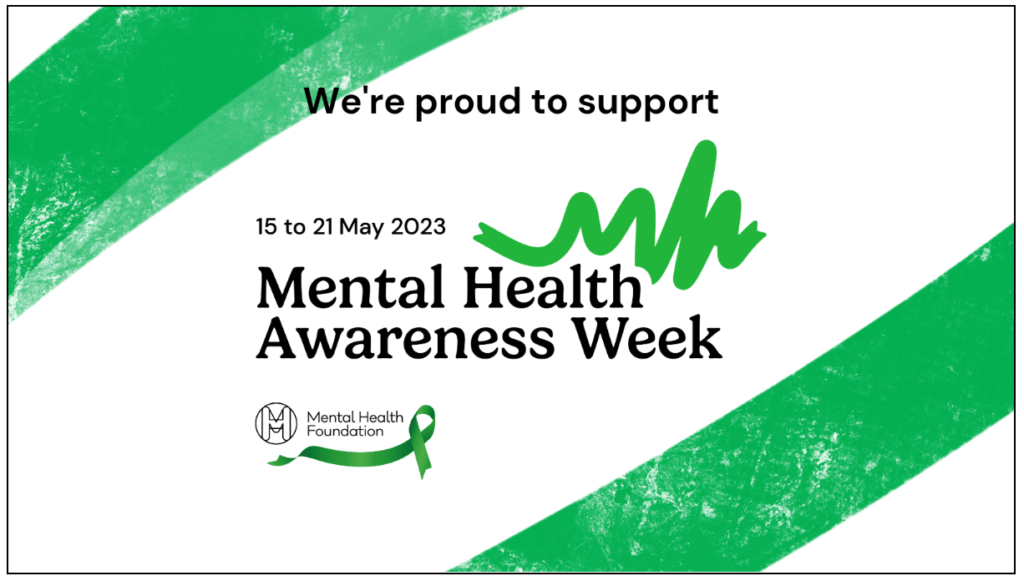 #ToHelpMyAnxiety
Now, let's dive into this year's focus for Mental Health Awareness Week: anxiety – a feeling most of us are all far too familiar with. In the Mental Health Foundation's words:
"If you are feeling anxious, you might notice your heart rate increasing, headaches, loss of appetite, breathlessness or chest pain. […] Anxiety might make you feel tense or nervous, find it hard to relax, feel tearful or have problems sleeping and concentrating."
I've been there. A lot of us have been there. And it's not pretty. Anxiety is unpleasant, to say the least, but support is available and you are not alone.
While we may not always be able to prevent anxiety from getting to us, there are strategies we can use to navigate it. Exercise, spending time in nature, and maintaining a healthy diet – are just a few examples of how.
Joining the conversation
To amplify the ongoing dialogue, we reached out to our incredible team members and asked them how they manage their anxiety. With 14 individuals generously sharing their experiences and insights, we've compiled their replies to create this little toolbox of personal wisdom and experience. The breadth of their answers highlights the diverse coping mechanisms we use to combat our anxiety – see them all at the end of this post.
We've shared these contributions across our social media channels to participate in the #ToHelpMyAnxiety campaign to foster meaningful and vulnerable conversations not only within our team but with a wider audience.
By openly discussing our experiences and sharing our journeys, we can collectively navigate the challenges of anxiety and embrace a more compassionate and supportive approach to mental well-being at work.
In a stroke of luck, our monthly in-person team meeting fell right in the middle of Mental Health Awareness Week – it was the perfect opportunity to be more intentional about it. We played "An Anxiety in the Hat", where we anonymously shared what makes us anxious and discussed our experiences, feelings and strategies in small groups. The result was a deep, candid and unifying conversation.
Resources
Everyone experiences anxiety in different ways, and what works for one person may not work for another. Unfortunately, there is no one-size-fits-all solution to mental health.
What is important, however, is not turning a blind eye. If we neglect our feelings of anxiety, they could grow more powerful and stop us from doing the things we need or want to do. As the Mental Health Foundation rightfully points out:
"The more often and the longer we feel anxious, the more it can become a problem."
So, if you're feeling anxious and don't know where to start, check out the support that is available to you. Here are some great resources to get help you get started:
Mind's anxiety guidelines
NABS – a support organisation for everyone in the advertising and media industry
Team Empower's Take