Empower was recently asked to run the digital activity for The Great Get Together. An important part of this was displaying the thousands of individual events happening across the country in an easily navigable format.
We tested a few options, and decided Google Maps offered the best usability for the team and for users. Here was our decisions making process and how we made it work.
We hope it helps you plan your next big campaign.
About The Great Get Together
The Great Get Together is an annual, nationwide mass-participation event that takes place every July. People across the UK hold street parties, garden parties, fetes and a whole range of other Get Togethers to bring their communities closer together.
To get as many people to take part in the event the national The Great Get Together teams and local organisers both wanted to show how many events were running and let people know the specifics of events near them.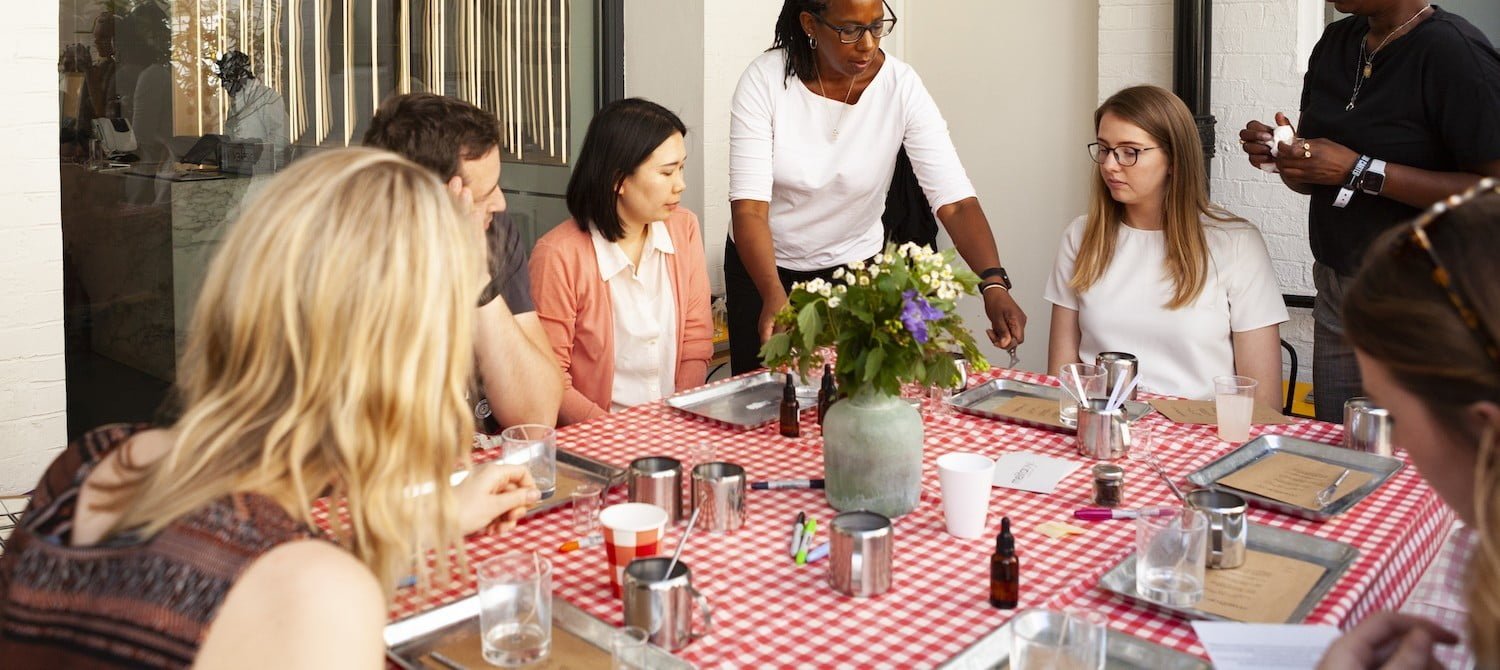 Thousands of Great Get Together events took place across the UK
An Nviting proposition
For last year's Great Get Together, the team used a solution from Eventbrite, called Nvite, to register events and display on a map. Nvite is designed specifically for events listings and can adapted for your events' needs (at a cost – Eventbrite charges for its developers to customise your event).
However, The Great Get Together found a few issues with Nvite during last year's event which we we weren't able to find solutions for,
Platform Registration: To be able to add their event to the platform, event organisers need to register a profile. Many organisers either didn't want to do this or struggled to fill in the registration form (there are many Get Together organisers who are less digitally savvy).
Batch Upload: Many of The Great Get Together partners were hosting a number of events in different places at different times. Nvite does not provide a batch upload feature and uploading these individually would have been extremely time consuming.
The same issues seemed to apply to platforms like Facebook Events or Eventbrite at the time we investigated them:
To use Facebook Events users would have to sign up for a Facebook profile, a big barrier to entry for some.
The Eventbrite event registration process was off-putting for many in its complexity.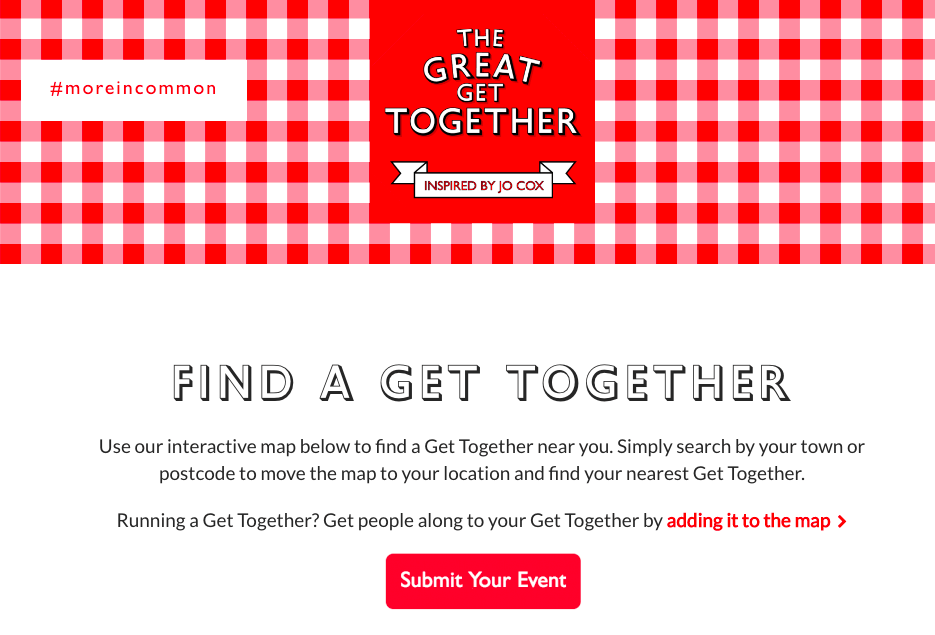 The Find an Event page on the Great Get Together website
(Google) Mapping out an event registration system
The empower team decided to look at Google Maps as an alternative. Having scoped out the user journey for both submitting and finding events, we found that a combination of Google Forms, Google Sheets and Google Maps would work well.
Here's how the system worked:
We embedded a Google Form on an Event Submission page on The Great Get Together website.
We directed event organisers to the page to fill out the form and add their event details. This also gave us a chance to collect other event details that wouldn't go on the map, like for PR, marketing and evaluation purposes.
Using Google Forms functionality a confirmation message would let the event organiser know that their event submission had been successful and that it would be added to the map.
The event details were automatically saved in a Google Sheet attached to the form, giving us all event details for all event organisers in one place.
From this 'master spreadsheet' we manually moved the details we need for the main map (event name, event type, location, start time, end time, website or email for more information) to a smaller 'event details' sheet. This also gave us the opportunity to clean up any data, with any typos or odd details being clarified with the event organiser
We added the Geocode plugin to this 'event details' sheet to create geolocation codes for each event based on the postcodes submitted by organisers.
We then used this sheet to populate a Google Map with all of the events.
Once we had the Google Map up, some light JavaScript work removed the geolocation codes from display (so as not to confuse users with irrelevant information) and a custom pin was added to help brand the map in The Great Get Together's signature style.
The Google Map was embedded on a mobile-optimised Find An Event page on the Great Get Together website, along with a search box for people to be able to find an event near them.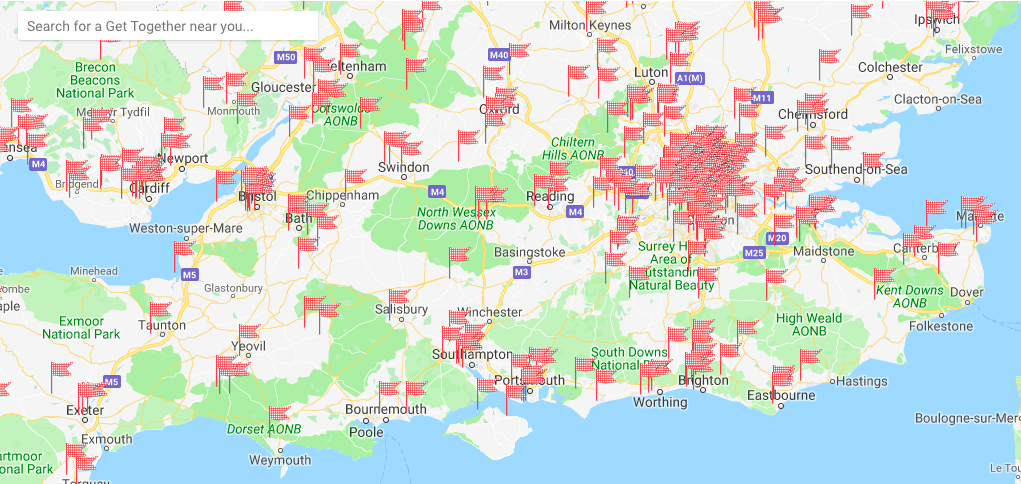 How the Great Get Together event map looked at the end of the 2018 event
Benefits of the Google Maps system
There were many benefits to using the Google Maps-based system over Eventbrite or Nvite.
Event organisers didn't have to register a profile to submit the event and the form was kept simple with clear directions and tips.
We were able to create templates for batch uploading of events. Partners were sent the templates and could quickly create a spreadsheet of their own events, a simple copy and paste job for most. These templates could then be imported into the main master spreadsheet.
We were also able to create custom Google Forms for partners that could be added to their own websites. The event submissions here could easily be carried over on to the master spreadsheet. For example, AirBnb added a form to their AirBnb Citizens website to help recruit people for The Great Get Together.
As an added bonus, using Google Maps, Google Forms and Google Sheets gave us control over how data was being used and who could access which parts of the data; important for GDPR compliance.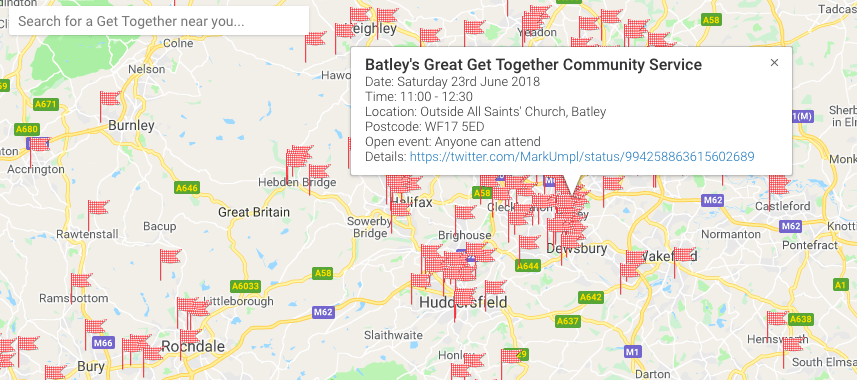 How an individual event marker appeared
Drawbacks of the Google Maps system
However, there were some minor drawbacks to using this system.
Google Forms has a date entry system in the American format, with month first followed by date. The convention in the UK is date followed by month, which tripped some users up despite leaving helpful hints and with a date picker available on the form.
The whole system could not be completely automated. Every day one of the team had to spend 5-10mins adding new events to the Google Sheet and update the map.
The embedded Google Map on the Find An Event page worked well for people looking for events, but we could also have added a list of events beneath the map so people could search for an event near them that way if they didn't want to use the map. One to consider for next year's event.
A massive recommendation for mass-participation events
Overall, Google's suite of services allowed us to process thousands of events from hundreds of event organisers with little manual effort once the system was set up.
We were also able to capture additional details that were important for the wider events team, which were used for things like PR, marketing, monitoring and evaluation.
There are still improvements to be made for this system, but we recommend having a look at a combination of Google Maps, Google Forms and Google Sheets for anyone looking for a low-cost, yet elegant solution for displaying mass participation events.